Fall Seminar: Los Angeles
"I learned a whole new way to get students involved in their own thinking and learning process…[the workshop] renewed my energy by its implicit trust in my professional judgment and my students' capacity for thought."
– 2012 Summer Seminar Participant
Building Question–Asking Skills
The skill of question formulation is critical for students, employees, and citizens. We believe next to basic literacy, it is the most essential skill for learning.
Over the past twenty years, the Right Question Institute (RQI) has developed, tested, and refined a process for building this critical skill.  The Question Formulation Technique (QFT) is a simple step-by-step process that consistently results in students who:
are more engaged
take greater ownership of their own learning
learn more
Using the QFT helps students think more critically, write more persuasive essays, deepen mathematical understanding, design better science experiments, and conduct independent research and learning projects.
Seminar Experience
Educators will explore the QFT and learn strategies for integrating the technique into their classroom practice while sharing their own experience, knowledge, and expertise. Participants are encouraged to attend with colleagues from their department or school.
The seminar offers an experiential and highly collaborative learning opportunity. Seminar activities support peer-to-peer interactions and a range of learning styles. Participants will have opportunities for individual reflection, small group work, and large group discussions with colleagues across grades and subject areas.
Day One:
Provide a deep experience in the QFT:
Investigate its key educational principles
Review QFT examples and applications from across content areas
Explore the shift in practice
Practice Question Focus design
Day Two:
Emphasize hands-on application & planning:
Share specific applications of the QFT
Explore ways to integrate the QFT with classroom practices & technology
Develop an action plan for implementation
Seminar Outcomes
Every participant in this collaborative learning experience will:
Explore the shift in practice necessary for adapting the QFT to teaching & learning goals
Learn the key components of the QFT and how they align with school goals, pedagogical practices, Common Core, and 21st Century Skills
Acquire experience & materials that will allow them to integrate the QFT into their lessons
Develop an action plan for immediate implementation in their classroom and school
Registration + Information
Who:
Open to individual educators and teams working with students across content areas, grades, and levels of academic readiness.
Where:
Wildwood School Elementary Campus 12201 Washington Place
Los Angeles, CA 90066
When:
Monday, October 15 – Tuesday, October 16, 2012
How much:
2-day seminar price of $450 for individuals and $425 for groups of two or more from the same school/institution. Price includes all workshop materials, continental breakfast, and lunch.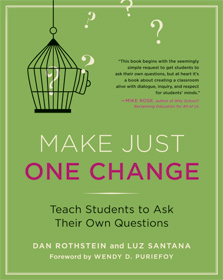 The seminar builds upon the ideas and practices outlined in Make Just One Change: Teach Students to Ask Their Own Questions, Cambridge, MA: Harvard Education Press and materials available on the Right Question Educator Network.
"[Make Just One Change: Teach Students to Ask Their Own Questions] begins with the seemingly simple request to get students to ask their own questions, but at heart it's a book about creating a classroom alive with dialogue, inquiry, and respect for students' minds."
–Mike Rose, author of Why School? Reclaiming Education for All of Us