A desire to create space so students can empower themselves through inquiry, project-based learning, research, and technology has motivated a group of teachers to embrace the Question Formulation Technique and introduce it to colleagues.
Student centered learning. Inquiry learning. Project-based learning: "Teachers are hearing all the buzz words," said Kimberly Tahsuda Nelson, a teacher librarian at Channel Islands High School in Oxnard, California.
Many of these teachers, she said, "have expressed not knowing where to start."
It's one reason Nelson and a small but growing band of educators in the Oxnard area have started using the Question Formulation Technique and promoting it among colleagues – gently prodding fellow educators into giving it a shot.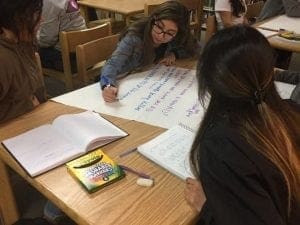 It requires some coaxing, in large part because the Question Formulation Technique, or QFT, requires a shift from some old teaching habits.
The technique is a structured, step-by-step process that develops students' ability to generate, improve and use their own questions to guide their learning. For teachers accustomed to the opposite – standing at the front of a classroom and asking questions of students – the QFT can seem like driving the wrong way down a one-way street.
Yet at nearby Oxnard High School, fellow teacher librarian Jennifer Brickey has also been urging colleagues to add the Question Formulation Technique to their teaching repertoire.
"I've told our new principal [about it]," she said. "I said I think everyone at our site needs to know how to run and implement the Question Formulation Technique."
The message she gave to the principal was this: "If every single person knew how to do it, and used it, I don't know, let's say quarterly – just do it four times a year – it will improve."
She's talking about improving test scores on the state assessment, CAASPP – California Assessment of Student Performance and Progress.
Oxnard High School performs so-so on the assessment. Results lag behind the state average in English and, more so, in math.
"One of our lowest areas is research and inquiry," Brickey said, referring to an assessment category within the English and language arts section. She thinks the QFT could help address the challenge.
Then there's Jay Sorensen, an EdTech coordinator with the Oxnard Union High School District, who values the Question Formulation Technique because – get this – it doesn't require tech. He's incorporated the QFT into the district's new online professional development initiative.
And there's Michelle Townsley, a veteran math and science teacher, currently at Rio del Valle Middle School.
"I've been using questioning strategies for my entire 30-year teaching career," she said. When she learned about the Question Formulation Technique, she knew instantly that it would be useful. "This is so organized. It's much more thorough than anything I've ever done," she said.
Together, these educators and some of their colleagues have begun to spread word about the Question Formulation Technique as one way to engage students, drive inquiry, boost research skills, and promote student ownership of learning in a community where socio-economic and English language backgrounds are quite diverse.
A tool to benefit all students
Students who use the QFT "feel smarter," said Brickey.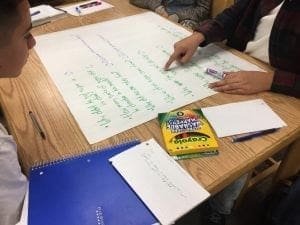 "It's a low floor, high ceiling," said Townsley, referring to the wide range of students who benefit from learning the technique. "Pretty much everybody can participate."
In Oxnard, the Question Formulation Technique appears to be gaining momentum amid a wave of other changes taking place within the community's schools.
A new superintendent took the reins of the Oxnard Union High School District in spring of 2016, overseeing nearly 17,500 students spread across 11 schools (including the adult education and alternative programs). The district's flagship high school, Oxnard High, got a new principal in the summer of 2017, and Hueneme High School got a new principal soon afterward. New leadership has fostered a more general atmosphere of change.
"There's a lot of newness here," said Sorensen. This includes his department, Learning Support Services, which oversees state and district tests, conducts data analysis and provides staff with professional development and support in the realm of educational technology. When the new superintendent arrived, the district "felt behind the times when it came to technology, so they're trying to boost that up," Sorensen explained.
The Oxnard Union High School District straddles a few communities in Ventura County, notably the cities of Oxnard and Camarillo – about 60 miles up the coast from Los Angeles International Airport, toward Santa Barbara, on California's Route 1.
It's home to a diverse mix of families in terms of household income, languages spoken at home, and urban and agricultural neighborhoods.
The median household income in Oxnard, at $61,709, is slightly lower than the statewide average of $63,783, whereas in Camarillo it's about $24,000 above the average, according to U.S. Census figures.
In practice, there are pockets of wealthy and lower-income neighborhoods sprinkled around both cities. Sleek waterfront homes near Channel Islands Harbor and extravagant countryside mansions in Camarillo command asking prices well north of $2 million, whereas mobile homes just off the highways are marketed under $150,000, according to Redfin, a real estate website. Some areas are urban; others are agricultural. Caesar Chavez, the farm-workers civil rights leader, lived in a shed in Oxnard as a boy while his family harvested walnuts.
About 62 percent of Oxnard Union High School District's student body receives free or reduced-price lunch, slightly higher than the state average. Nearly 77 percent of the student population is Hispanic or Latino, and more than 13 percent of students are English language learners, according to the California Department of Education. This part of California is also home to about 20,000 Mixtec people, an indigenous group from southern Mexico who often work in the fields as berry pickers. About 4 percent of the district's English language learners speak Mixtec, which is not a written language. It's not uncommon for Mixtec parents to speak neither English nor Spanish. Sorensen, who previously taught in elementary school, recalled a few parent-teacher conferences that required three-way translation from Mixtec to English through Spanish.
In short, the hallways of Oxnard and Camarillo's schools are filled with students from every walk of life. The Question Formulation Technique works well with this dynamic, according to Brickey.
She elaborated: "It doesn't require any sort of prior knowledge in the sense of language or anything like that, so what it does is it meets the students where they are. It doesn't matter if they are reading at college level or if they're in English language development classes."
"It's an equalizer, and [students] find it empowering to be able to ask questions and to hear their own voice," said Nelson.
A multi-functional tool: using the QFT for research, inquiry, 21st-century skills, college prep and project-based learning
As teacher librarians, Nelson and Brickey often work with high school students doing research projects.
When teachers bring students into the library for these projects, Nelson encourages them to lead a QFT session at the beginning, which gets students "formulating questions about the topics they have so they have more ideas about their research questions."
This helps build curiosity, engagement and ownership of the process, Brickey said.
She talked about the "stereotypical assignments that teachers do, especially in regard to research, and they turn more into kind of scavenger hunts than they do actual genuine research." The QFT encourages students to ask follow-up questions, engage with the reading and shift focus depending on what they discover – in other words, to conduct serious research.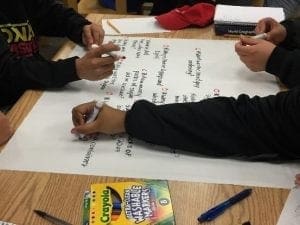 It's a strategy echoed by Townsley, who introduces middle-school students to new science and math units with the QFT. "I just think it gets them a little more focused into the learning. When I've conducted the QFT, virtually every student is focused on the activity," she said.
Townsley has also used the QFT "off the cuff." As she explains it, "I'm doing a lesson and I notice that kids are coming up with questions, and I'm like, 'Everybody let's stop.' And I pass out poster paper and say, 'Let's do a quick QFT,' and I just set the timer for five minutes and have them write questions."
Indeed, teachers with limited time find the QFT helpful, said Brickey. "It can be done in a period, so even if teachers are reluctant to do full-blown research, at least I can get those classes in for one period and do something really meaningful and engaging," she said. "So many teachers are looking for something they can do the next day" and the QFT "is engaging and effective, and it takes 55 minutes to do."
"I feel the beauty of it is it's such an easy-to-follow process," said Sorensen. "It can be done in a period … which is good for a lot of our secondary teachers, and it's such a great first step for the students at the same time, because it is accessible."
As an EdTech specialist, Sorensen values inquiry and sees inquiry as inherently linked to things like digital literacy and "preparing students for jobs that don't exist yet." He sees the QFT as "a perfect first step to inquiry."
"Technology has brought us to the point where students have access to the [academic] content," he said. "The teacher is not the deliverer or the holder of all knowledge." With so much information at their fingertips, the question for students is, "What do you do with it?" Sorensen said. "I think that's where inquiry comes in. Inquiry is sort of the key to unlocking all the amazing things that we can do with the technology and all the information that we have."
Like schools around the country, those in Oxnard are looking for ways to prepare students for college and careers in the information age. "We need to help students empower themselves with the four Cs," Sorensen said, referring to collaboration, critical thinking, creativity and communication – skills promoted by P21's Framework for 21st Century Learning.
In this vein, Brickey works closely with her school's AVID program. Short for Advancement via Individual Determination, AVID prepares students from "diverse and underrepresented demographic groups" for college, according to its website. It's "inquiry-based and student-centric" and leads students to "think critically, collaborate, and set high expectations to confidently conquer the challenges that await them." Students must qualify to be part of the program.
Oxnard High School is an AVID demonstration school, Brickey said, meaning "our school is seen as an exemplary model of AVID implementation."
"I have done work with multiple AVID classes in doing the QFT," she said, and she'd like to see the QFT become even more fused with the program to help students collaborate with each other when it comes to challenging academic work.
Meanwhile, Townsley is among a group of teachers transitioning to a new K-8 school, Rio STEAM Academy, expected to open for the 2018-19 school year. STEAM stands for science, technology, engineering, art and math, and it will emphasize student-centered, project-based learning.
"The QFT is going to fit in there like nobody's business!" Townsley said.
In fact, she's scheduled to introduce the school's faculty to the QFT as part of the school's Inquiry into My Practice (IMP) approach to instruction, where "you think about what you're teaching and why you're using that strategy in the classroom," Townsley explained.
"You can see how the QFT would really fit into that [project-based learning environment]," Townsley said. Teachers would tell students, "So you're going to do this project. Let's start thinking. What kind of questions do you have before we start?"
Spreading the word
Professional development has been a priority for Oxnard's QFT advocates. Townsley has presented the technique to the California Math Council, where she holds a leadership role. "It was really successful," she said of experience. About 50 teachers attended the presentation, and "the responses were overwhelmingly positive." She also previewed the QFT at UC Santa Barbara with the Mathematics Project leadership team.
Nelson and Brickey have done a number of professional development sessions within the district to introduce staff to the QFT. "Almost all the feedback we've got back has been positive," Nelson said. "It's a mindset shift for both teachers and students."
Sorensen has presented the QFT at local Edcamps – free, participant-driven professional development meet-ups where the agenda is set in real time by participants. He's also presented at a CUE EdTech conference.
As the Oxnard Union High School District's EdTech coordinator, he built an online professional development game where teachers take on new challenges, earn points and progress through different levels to win prizes, including T-shirts, iPads, a laptop and trips to conferences. It makes professional development more fun. Teachers can earn points for doing things like watching a TED Talk, starting a blog, creating a shared Google folder – or using the Question Formulation Technique.
"One of the things I kept hearing from teachers was, 'I never would have thought of that,' or, 'I wouldn't have known about that' if it weren't for this game," Sorensen said. "It put things on people's maps that maybe they wouldn't have been thinking about or thought to have tried, the QFT being one of those."
A challenge to promoting the QFT among colleagues is being perceived as the only person able to do it. "A lot of teachers have said I'm the expert, and I'm like, no no no," said Brickey. Every teacher should be doing it.
"My intention here is to get as many teachers to give it a shot" as possible, said Nelson. "It is catching hold."
Empowering students beyond school
Sorensen said, "My big focus is on student empowerment … Getting [students] to be able to think critically and to ask questions are skills they can use for the rest of their life."
"Part of me thinks the QFT itself is related to democratic participation, in the sense that you want students to ask questions and be able to vocalize their concerns and not be afraid," said Brickey. It teaches students to "not be afraid to ask questions if things aren't clear or if things need more explanation, or whatever." She therefore sees the QFT as "important to democracy in general."
She added, "It goes beyond just the classroom" because it supports "everyday learning and engagement in what's happening in our world."