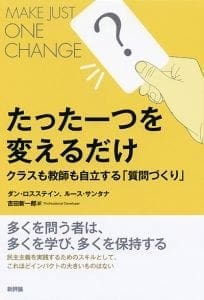 RQI contributes to research and public discussion in areas such as legal empowerment, student curiosity, critical thinking, inquiry, information literacy, poverty and education, parent engagement, voter and patient activation, and more.
Staff have published papers in a range of journals and publications, including Social Innovations Journal, Education Week, Educational Leadership, Teaching Channel, Social Education, and PBS Teachers' Lounge.
The book Make Just One Change: Teach Students to Ask Their Own Questions (2011), by RQI co-founders Dan Rothstein and Luz Santana, has become a classroom classic. It's available in seven languages and is one of Harvard Education Press' top sellers of all time. It's also been a top-selling pedagogical book in Japan.
Rothstein and Santana's 2017 book, Partnering with Parents to Ask the Right Questions, co-written with Agnes Bain, unveiled one of the 10 topics of 2017 that "most changed the way we think about some aspect of teaching, learning, and leading," according to ASCD Express.
RQI's work has been featured in media outlets such as National Public Radio, The Boston Globe, the CBS Radio Network, KQED, and Fast Company.