Miss one of our webinars? No problem. Recordings are available for most of them.
Click on the headlines below to find webinar recordings.
Find more webinars here. Check our events page for the most up-to-date schedule of webinars and other learning opportunities.
---
The Right Question Institute is offering a series of webinars in late April and early May.
As the coronavirus pandemic continues to unfold and the public begins to contemplate what comes next, these webinars cover topics that are getting more important every day: asking the right questions, including better research questions; teaching and learning from home; navigating complex public services and systems amid confusion; and advocating for yourself in challenging times.
More webinars are coming soon. Visit RQI's events page to find the latest offerings.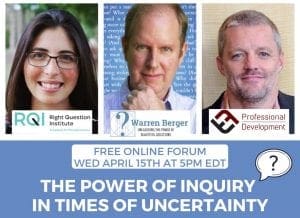 As teaching and learning shifts online, how might we create opportunities for students to build their own inquiry skills? Warren Berger, author of A More Beautiful Question and a new book, Beautiful Questions in the Classroom, joins RQI's Sarah Westbrook and TeachThought's Drew Perkins for a conversation about leveraging the power of inquiry in uncertain times.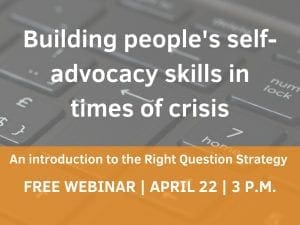 Knowing how to advocate for yourself is key in times of crisis and beyond. This introductory webinar is designed for staff in direct services, social services, and other organizations providing support to people in need. Explore tools you can use with clients and all people in your community to improve their ability to advocate for themselves and navigate services. RQI Co-Director Luz Santana will lead this webinar.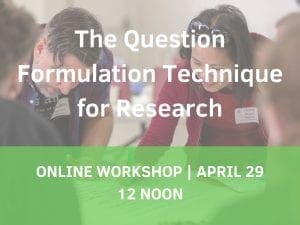 "There is no learning without having to pose a question," said Nobel Laureate and physicist Richard Feynman. Join RQI's Andrew P. Minigan for an active online workshop. Learn how to use the Question Formulation Technique to generate better, more transformative research questions. This technique can benefit all researchers, including those in post-doctoral settings and faculty positions. Also learn about preliminary findings from National Science Foundation-funded research into this strategy.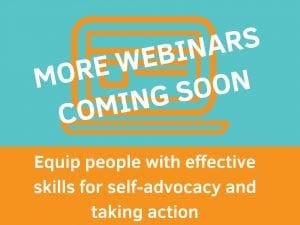 As providers of basic services see more people needing help, they'll need new ways of handling greater demand with tighter resources. RQI's strategy can provide a release valve for overwhelmed services by equipping people with effective skills for self-advocacy and taking action on their own behalf.
On April 29, join Luz Santana for virtual office hours.
On May 6, she will present an introductory webinar.
Additional office hours are coming in May.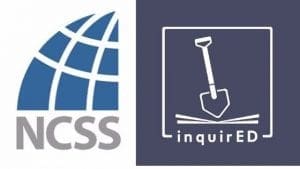 If you missed this webinar, watch it now at InquirED. This site has links to other great resources for teaching virtually — from the Library of Congress, the National Council for the Social Studies, and the Right Question Institute.