Teaching Students to Ask Their Own Questions
Third Annual Summer Seminar
One Strategy That Enhances All Teaching And Learning
Annual Summer Seminar:
Wheelock College
43 Hawes St, Brookline, MA 02446
Please note that the information below is a description of our July 2014 seminar, we are currently planning for our 2015 seminars and will be sharing that information and opening registration soon!
"I learned a whole new way to get students involved in their own thinking and learning process…[the workshop] renewed my energy by its implicit trust in my professional judgment and my students' capacity for thought."
– Summer Seminar Participant
Seminar Description
Educators from around the country and beyond observe that the Question Formulation Technique (QFT) is the simplest, most powerful strategy for helping students learn to ask their own questions and learn how to ask better questions. When students know how to ask their own questions, they are more engaged, take greater ownership of their learning, and actually learn more.
Educators in a wide range of schools and communities are excited about how the QFT helps students become more engaged, self-directed learners. As a result, they are better able to meet Common Core Standards, create their own "driving questions" in Project-Based Learning, take more ownership of their learning and develop new competencies. For teachers, the QFT allows them to provide a rich differentiated learning experience for all students, be they in inquiry-based learning or traditional classrooms. Many district leaders also find that the QFT provides a simple, accessible strategy for improving questioning in the classroom as required by Section 3b of Charlotte Danielson's Framework for Teaching.
The QFT is indeed simple and powerful, but using it well requires a small but significant shift in practice. Educators from primary grades all the way through faculty from institutions of higher education participate in our summer seminar in Boston in order to explore in-depth how the small shift in practice and the QFT can be easily integrated into their core teaching and learning practices.
"The QFT is a process. It is not new curriculum or extra content. It is a method that allows you to teach content and skills in a way that better supports students' thinking."
"It's a way to get students motivated and involved in their learning. It encourages self-direction and curiosity about a topic, and you can use it with any subject!"
"[The] QFT is a pedagogical protocol that is simple, logical and easy to learn how to execute. It is structured yet open-ended as a lesson activity and learning component, both for teacher and student."
– 2013 Summer Seminar Participants
The seminar will be led by Dan Rothstein and Luz Santana, Co-Directors of the Right Question Institute and co-authors of Make Just One Change: Teach Students to Ask Their Own Questions (Harvard Education Press: 2011) and by educators experienced in building students' questioning skills. For more than twenty years, Dan and Luz have been developing innovative teaching and learning methods based on experience working with and learning from a wide range of people in many fields and communities.
The Right Question Institute's third annual Summer Seminar offers an exciting, hands-on learning environment with opportunities to learn with fellow educators from a wide range of communities, learning environments, schools, grade levels and subject areas. The seminar will also offer specific thematic strands and time for small group learning opportunities based on professional focus and interest. There will be workshop strands in primary grades, middle school, high school and higher education presented by educators experienced in teaching students to ask questions.
*Have an idea for a workshop? If your proposal is accepted we will waive half of your registration fee! Click here to learn more!
The seminar will offer you an opportunity to:
Day One
Deepen your understanding of the Question Formulation Technique (QFT)
Explore the shift in practice that takes place when students are learning to ask their own questions
Analyze examples of effective use of the QFT in classrooms around the country
Prepare to integrate the teaching of questioning skills into your practice
Design Question Focus examples
Examine how the QFT can help students develop critical thinking abilities and meet Common Core Standards, and improve student questioning as required by teacher evaluation frameworks
Day Two
Participate in workshops led by educators using the Question Formulation Technique (QFT) in their schools and classrooms
Practice teaching using the QFT
Learn to support colleagues and promote school and district-wide efforts to develop students' ability to ask better questions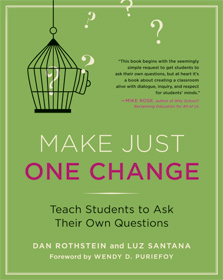 The seminar builds upon the ideas and practices outlined in Make Just One Change: Teach Students to Ask Their Own Questions, Cambridge, MA: Harvard Education Press and materials available on the Right Question Educator Network.
"[Make Just One Change: Teach Students to Ask Their Own Questions] begins with the seemingly simple request to get students to ask their own questions, but at heart it's a book about creating a classroom alive with dialogue, inquiry, and respect for students' minds."
–Mike Rose, author of Why School? Reclaiming Education for All of Us
Seminar Fee Includes:
Registration
Daily continental breakfast and afternoon refreshments
Seminar materials
A copy of

Make Just One Change: Teach Students to Ask Their Own Questions

(Harvard Education Press: 2011)
1.0 CEU from Wheelock College
Accommodations and Transportation:

Accommodations:
Participants are responsible for arranging for their own accommodations.  We encourage participants to explore these housing options in Brookline, many from the
Lodging Near Wheelock
page:
Transportation:
We suggest you explore the
Visit Us page from Wheelock
which offers directions to detailed information on the lefthand side of the page for
driving directions, public transportation, and parking.
Landmark Center is $28/day and Masco Garage is $29/day.
"I would highly recommend it. Extremely useful, fun seminar. Wonderful, so glad I was able to participate."
"I thoroughly enjoyed how engaging this seminar was this week. It was great to meet new people from all over the country and hear their stories. I enjoyed collaborating with other professionals around a common goal."
– Summer Seminar Participants