As part of the Right Question Institute's project with the Library of Congress Teaching with Primary Sources Program, the education team is producing a brand new classroom video.
The video resource will demonstrate how to use the Question Formulation Technique with primary sources over a multi-day unit, from start to finish.
Whereas previous videos we've produced showcase individual QFT lessons, this video will focus on how student questioning can drive a whole unit. After two and a half years of pandemic-related delays that made it impossible to bring a film crew into in-person classrooms, we were so excited to have the opportunity to visit Alyssa Park and her fourth-grade class in person.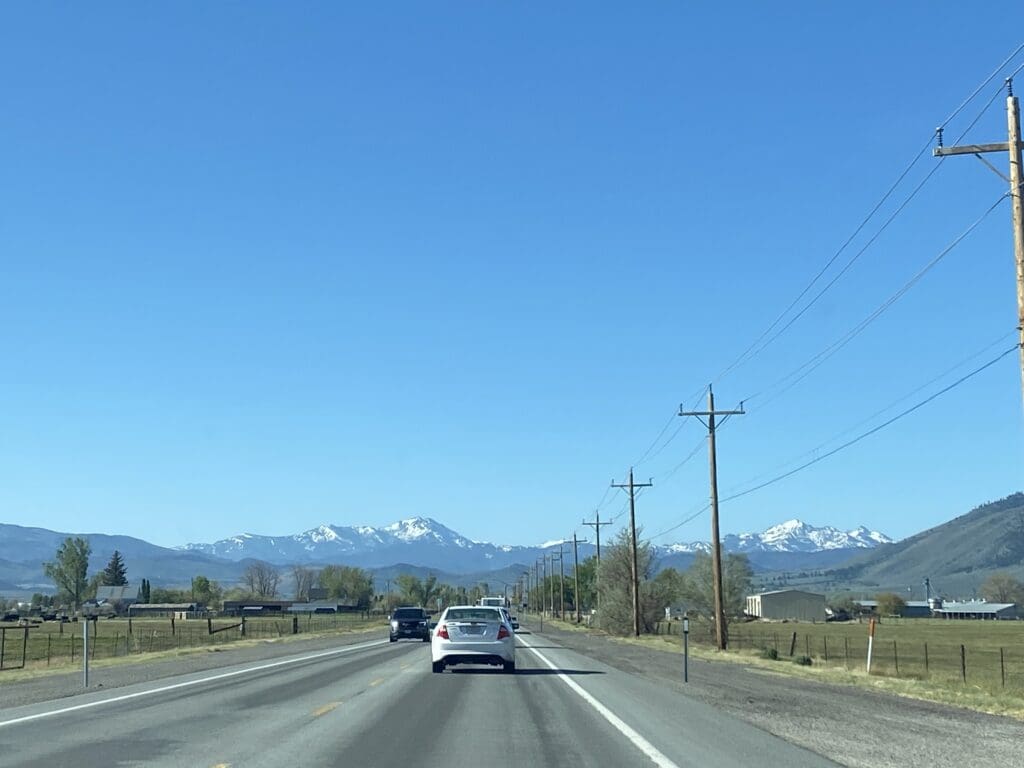 Located in beautiful Gardnerville, Nevada, just an hour south of Reno, Gene L. Scarselli Elementary School welcomed us and a three-person film crew into their building for an action-packed couple of days.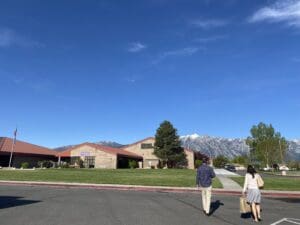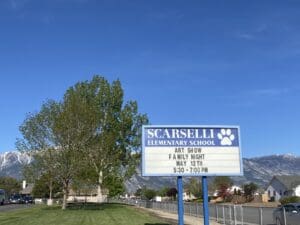 Here's a behind-the-scenes look at what it takes to produce a classroom video.
Day 1
The RQI education team, video producer Heather Riley, and two additional film crew members — Todd Dayton, camera person, and Paige Goedkoop, boom operator — touched down in Gardnerville on a Monday night. At 8 o'clock the next morning, we arrived at the school to start setting up the equipment and meet the students.
The students were very excited to have visitors in the classroom. Riley started by introducing herself and the film crew to the students, explaining that the camera person and boom operator would be following along as they worked through their unit on mapping, and it was important to pretend they could not see the equipment while the cameras were rolling.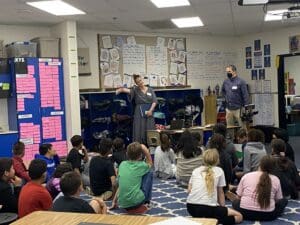 The kids embraced the fun of being "actors" and went about their usual routine. They had done the QFT several times in class before, so they knew exactly what to do. Several teachers and administrators at Scarselli Elementary made sure to tell us that Park's students are superstars even when the cameras aren't rolling. 
The purpose of this particular unit was for students to learn about maps — why and how they are made, and for whom — and at the end be able to create their own map of Nevada. Filming began with individual interviews of students as they talked through the initial maps they had drawn before we got there, which acted as their pre-assessment for the unit.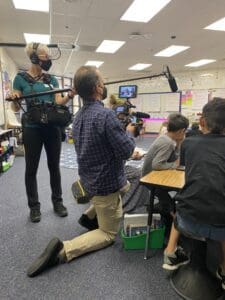 At 10 o'clock, students gathered on the rug to start the QFT. The Question Focus (QFocus) was an 1866 map of Nevada from the Library of Congress showing the tip of the state "missing" — in other words, before that land belonged to Nevada, and before Las Vegas was even established. First, the students made general observations of the image as a whole class with the QFocus projected on the front board. Students jumped up to point details out as they noticed them.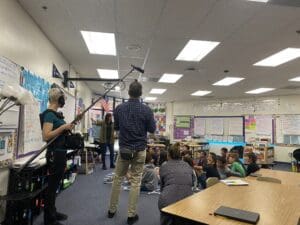 Then, back at their tables, and using handheld magnifying glasses to look even closer at copies of the map, students started the process of asking and improving their questions while the camera crew made their way around to each table to capture the conversations. Working in groups, they asked questions like, "Why is it color coded?" "Do the colors represent population?" "What are the symbols for?" "Why does Arizona have the bottom of Nevada?" and, "Why can we see Carson and Genoa but not other local towns?"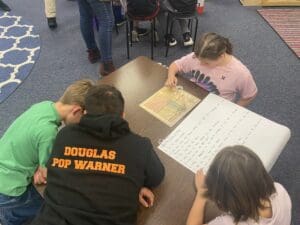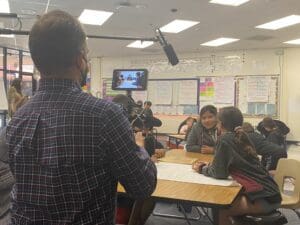 During their recess period, Riley conducted interviews with a handful of students about their reflections on what they like about asking their own questions and what they learned from investigating the primary source map of Nevada. Some students focused on what they learned from the activity — "I learned that everyone sees things differently and you can learn that from hearing other people's questions through the QFT!" — while others focused on how fun it was to be filmed. One student reflected, "I liked having the experience of actually asking questions on camera."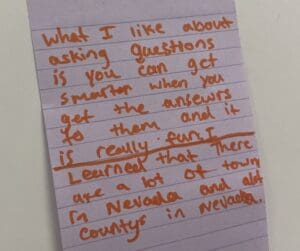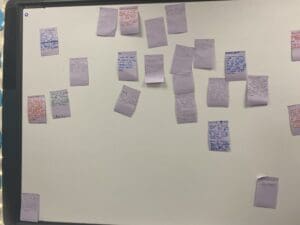 With the help of some "movie magic," we were able to fit two days into one! The kids committed to their roles and did a costume change after lunch. One student even told us his mom helped him pick out a button up shirt and tie for the next round of filming. 
We then watched as Park facilitated a discussion led entirely by students' initial priority questions. Students speculated and made inferences about the answers to their own questions, which touched on parts of maps and their purposes, the history of Nevada, the decisions a mapmaker makes, and much more. Park encouraged students to add new questions as they went. The discussion turned lively when one student asked, "How did they even get high enough to see the whole state?" Students wondered aloud if maybe they used a drone ("but drones don't even go that high," one student pointed out) and another said maybe it was a satellite (to which another student responded, "It couldn't have been a satellite; they didn't have TVs in 1866!") The discussion ended with even more curiosity, excitement, and new questions to dig into on day two.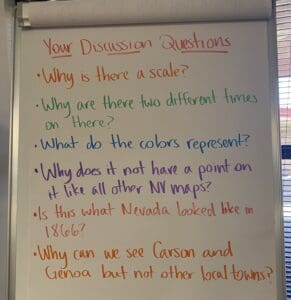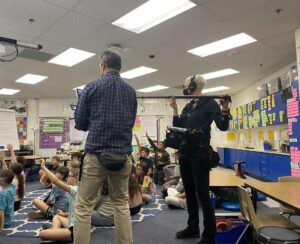 After a successful and busy day, the students headed home. The last task of the day was to film a one-on-one interview with teacher Alyssa Park. Park took us through her thought process when designing the lesson and reflected in real time on the day, pointing out specific moments in the lesson that impressed her and achieved what she hoped they would. Her detailed overview of what happened in the lesson will be used to frame and anchor what viewers see in the final video.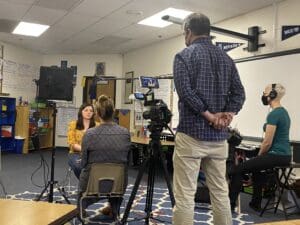 Day 2
On the second and final day of filming, Park prepared a worksheet for kids to pick a second set of priority questions as they walked around the room to look at everyone's original QFT lists. They chose the "three questions that would help them create their own map of Nevada," which would be the end goal of the unit.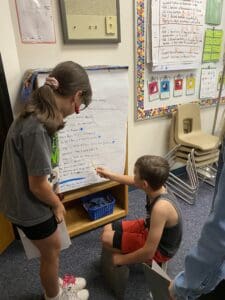 Park's class began researching some of their priority questions by examining several different types of maps of Nevada and the country, exploring Google Earth (many kids navigated their way to their own home), and using pre-selected resources in a research guide Park put together. Some students even got a head start on planning and designing their own maps of Nevada. Like a mapmaker, they will have to make key decisions about what kind of information they will include, what tools they will use to convey that information, and who they are creating the map for. Since we didn't have time to stay for several more days to see the entire map creation process, Park will send all of the final products after the fact so we can include them in the finished video.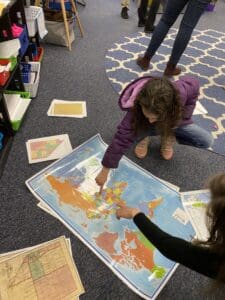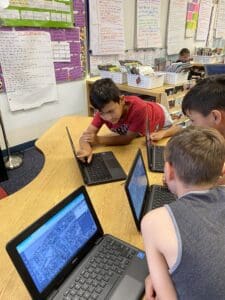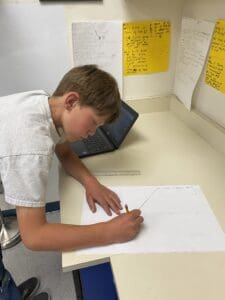 Filming wrapped midday. To celebrate all of their amazing work, students received snacks, novelty erasers, and flexible pencils, which they enjoyed swapping and sharing. As we were leaving, we were surprised with a loud, unison chorus of "You matter!" coming from the whole class of fourth-graders. It was a fittingly inspiring end to the trip. 
We are very grateful to Alyssa Park, principal Susan McNeall, and the whole Scarselli Elementary community for welcoming us so graciously to their school for an unforgettable experience. Keep an eye out in the coming months for the launch of our newest classroom video resource!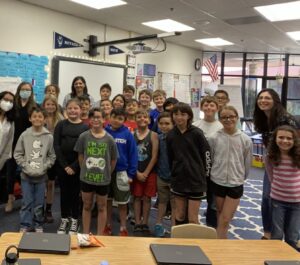 ---
Learn more: