Thank you for helping make a difference in 2022
As 2022 winds down, we wanted to share some numbers about the Right Question Institute — numbers that illustrate the broader community you're all part of and the impact you're making.
Thanks to your creativity and dedication, more and more people of all ages are sharpening skills for learning, asking questions, participating in decisions, and taking action. We look forward to continuing this work — which you are such an important part of — in 2023. Thank you!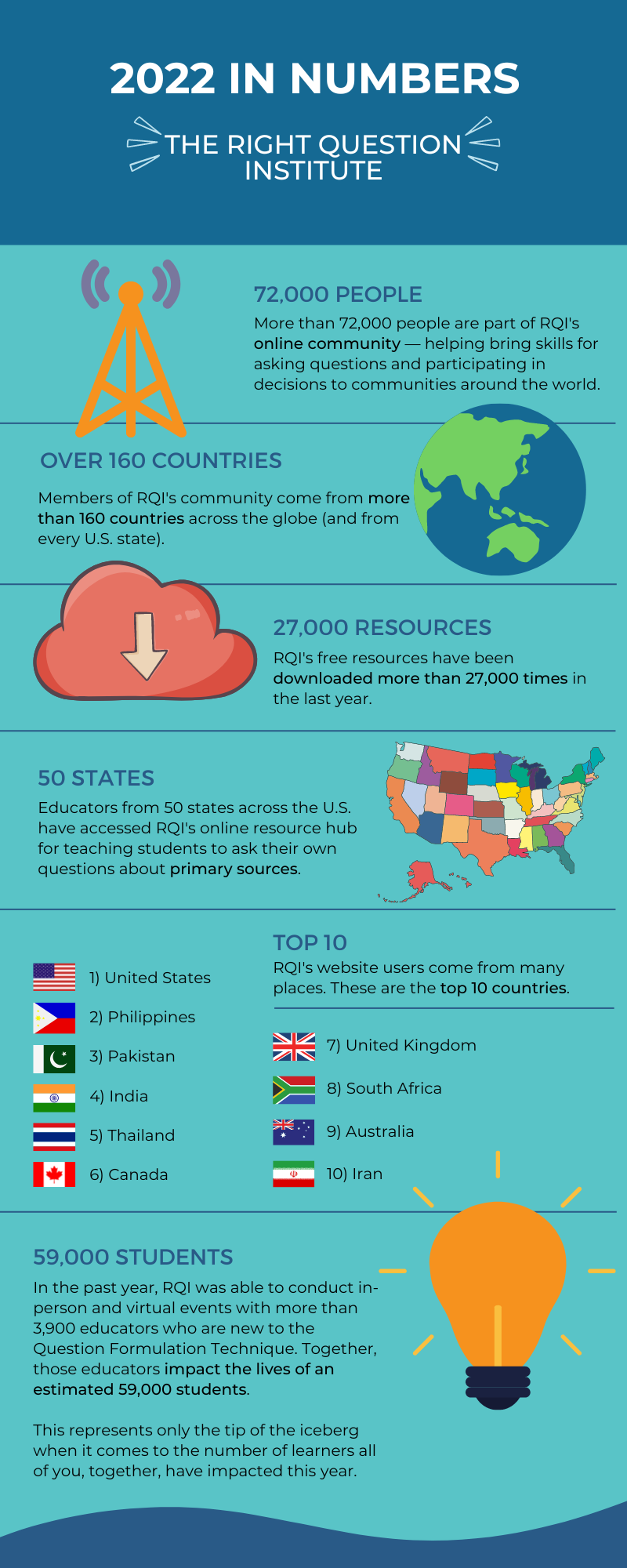 ---
Choose to be Curious
If you missed it in our previous newsletter, you can listen to this fascinating conversation between Lynn Borton, host of the radio show Choose to be Curious, and Naomi Campbell, director of RQI's Legal Empowerment Program. They talked about the ways questions can become powerful tools for self-advocacy and agency.
---
What we're reading
Here are some stories that got us thinking, and asking questions, over the past month.
One state is poised to teach media literacy starting in kindergarten— The Hechinger Report
Announcing the fifth annual NPR Student Podcast Challenge — NPR
Does growth mindset matter? The debate heats up with dueling meta-analyses — KQED MindShift
Third graders struggling the most to recover in reading after the pandemic — The Hechinger Report
How the realities of low-income girlhood are overlooked in schools and culture — Via KQED MindShift
---
Upcoming learning opportunities
Jan. 18-March 8: Teaching Students to ASK Their Own Geo-Inquiry Questions. In partnership with National Geographic.
March 29-April 1: Spark Curiosity and Joy in Math by Teaching Students to Ask Their Own Questions. Part of the National Council of Teachers of Mathematics (NCTM) 2023 Virtual Conference.
April 11-May 1: Teaching Students to Ask Their Own Questions: Best Practices in the Question Formulation Technique. With the Harvard Graduate School of Education. Deadline to register is April 3.
---
What your gifts mean
When you make a gift to the Right Question Institute, you help bring free resources to teachers and schools. Plus, you help equip people in low-income communities with skills and strategies for solving problems, participating in decisions, and making their voices heard — contributing to a more inclusive educational system, society, and democracy. Thank you for your support.