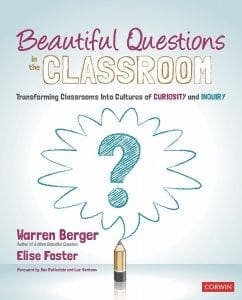 Warren Berger has written a number of books, including, in 2014, A More Beautiful Question, which explores the power of questions. It helped inspire educators around the country (and world) to teach students the skill of asking questions.
Berger's new book, Beautiful Questions in the Classroom, which he co-wrote with Elise Foster, was published in April. It delves deeper into ways educators can create a culture of learning, innovation, inquiry, and personal growth in the classroom. It provides practical advice and real-world examples, and it highlights the Question Formulation Technique as a way to enhance student questioning in the classroom. 
To write the book, Berger and Foster interviewed teachers from around the country, including many who use the Question Formulation Technique. Dan Rothstein and Luz Santana, co-directors of the Right Question Institute and co-authors of Make Just One Change: Teach Students to Ask Their Own Questions, wrote the foreword.
We did a (virtual) Q&A with Berger and asked him six questions:
First of all, congratulations. I think Beautiful Questions in the Classroom is the 10th or 11th book you've written or co-written — not including books where you've contributed chapters. Many people know your 2014 book, A More Beautiful Question. Why did you decide to focus specifically on questioning in the classroom? 
Thanks for asking! I'd written two books on questioning for a general readership, but I found the interest in them was particularly strong among educators. Teachers have always known about the importance of questioning in terms of student learning, but in my writing I've shown how questioning can spark innovation, improve decision-making, and improve people's lives in so many ways. So I think a lot of teachers felt my books helped them "make the case" for spending precious time on teaching kids to question well. With Beautiful Questions in the Classroom, we go a step further and examine some of the specific ways you can actually inspire and foster more student questioning in a classroom (or at home, for that matter).
Why is it important for students to ask questions?
Because it empowers them in so many ways. In my book, I talk about "8 superpowers of questioning" (I even created a comic superhero-style poster illustrating the powers). Basically, questioning helps students (and all of us) to understand what's going on around them, to explore new ideas and possibilities, to connect with others, to solve problems, to be heard — and ultimately, to change the world. That last one may sound a bit grand, but if you've read A More Beautiful Question, you know that so many of the ideas and innovations that have changed our world began with someone asking a bold, beautiful question.
Your book features the Question Formulation Technique in a number of places. In your experience, what contribution does the QFT bring to classrooms?
It provides a much-needed structure and process for eliciting student questions. The QFT makes it safe and even fun for kids to ask lots of questions. And it also teaches them some important things about the art of questioning — that questions help you see and understand an issue from different angles, that different types of questions will get you different results, that questions can be improved. I think one of the most important things the QFT does is give students a sense of ownership of their questions. It encourages them to want to follow up on those questions, and do something with them. Based on my own research, "taking ownership" of questions is a key to being an innovator. So you could say the QFT is helping to condition kids to think like innovators.
You interviewed a number of amazing teachers from across the country. What insights or conclusions did you take away from that experience — about questioning specifically or, more generally, about education in America? 
I came away feeling extremely hopeful about the future of education. I know there are problems with the education system, but the teachers — at least many of the ones I met, observed, or interviewed — are generally doing an amazing job. They're smart, passionate, committed. And what really impressed me is how curious and eager to learn most teachers are. They are natural questioners themselves. The only thing they might need help with — and hopefully my book can help a little — is figuring out how to maximize their own curiosity and inquiry skills while working with the constraints of an education system that doesn't necessarily prioritize curiosity and questioning. To that end, they can always use some fresh techniques and tactics, as well as a dose of inspiration. My co-author Elise Foster and I have tried to provide some of that in this book.
We're all grappling with the coronavirus pandemic and thinking about what comes next. It's an interesting time to release a book. How's the response you're getting? Is your message resonating with educators right now?
Yes, it seems to be. I've done webinars with educators in recent weeks and there is strong interest in the subject of questioning right now. Teachers and school leaders are asking a lot of questions about the future; they're considering ways that things might change or be reinvented, going forward. So I think the book is coming out at a good time in some ways, though it's also a strange time to be launching a book because it can be hard — understandably — to get people to focus on anything that isn't directly connected to their day-to-day efforts to deal with the crisis.
A lot of us have questions right now: about the pandemic, the economy, the future. Meanwhile, most students and educators are in a distance-learning scenario. How does student questioning and inquiry fit into the broader picture of what's happening right now?
With distance-learning, it becomes even more important to engage students and for them to be more self-directed. Questioning relates directly to that; when students are asking their own questions, they're likely to be more engaged, motivated, and self-directed. Beyond that, questioning is a tool for dealing with uncertainty. When we encounter the unknown, questioning helps us make sense of it. So I think this is a great time to teach young people about the power of questions to help solve problems, adapt to change, or even just to sift through and evaluate the confusing (and sometimes unreliable) information that's coming at us so furiously these days. It's hard to think of this current period as a "good time" for anything, but I think we can say this — it's a good time to be a questioner. And we need good questioners more than ever now, and in challenging times ahead.