Make Just One Change: Teach Students to Ask Their Own Questions (Harvard Education Press: 2011) introduced the Question Formulation (QFT), a step-by-step strategy for teaching students how to formulate, work with, and use their own questions. This deceptively simple yet profoundly important practice results in students who are more curious and engaged, take greater ownership of their own education, and are learning more deeply than ever before.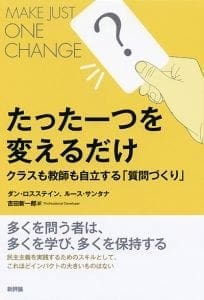 Since the publication of the book in 2011, we have seen amazing energy from a growing community of over 300,000 educators who, without any mandate, are using the QFT to teach students how to formulate their own questions. Make Just One Change has sold more than 50,000 copies and is one of Harvard Education Press' all-time best sellers. The book has been translated into Japanese, Chinese, Serbo-Croatian, Korean, Vietnamese, and Thai, and the QFT is now used by educators in more than 160 countries.
Rothstein and Santana have put together a straightforward and accessible book about what seems like a simple idea – get kids to ask questions, questions they care about. Don't be deceived. It's one thing to get kids or anyone to ask a question or two; it's another to get them take possession of the questions, to recognize that learning is asking questions and not just memorizing stuff. The art of making questions, nearly lost, is thankfully revived in [Make Just One Change].
As the title of this book indicates, Dan Rothstein and Luz Santana believe that education can be transformed if students, rather than teachers, assume responsibility for posing questions. This idea may sound simple, but it is both complex and radical: complex, in that formulating good, generative questions, and being prepared to work toward satisfactory answers, is hardly a simple undertaking; and radical, in the sense that an apparently easy move can bring about a Copernican revolution in the atmosphere of the classroom and the dynamics of learning. The authors modestly quote physicist Niels Bohr who once said, 'An expert is someone who has made all possible mistakes in a field and there are no more to be made.' In reading this powerful work, I was reminded of what Albert Einstein said, when he learned of Jean Piaget's pioneering questioning of young children: 'so simple only a genius could have thought of it.'
This is the first time I have written to any source of one of my teaching methods to thank them for providing me with such a powerful book to unlock the learning process… I have been teaching since 1977. I have studied techniques and pedagogy. In all that time, I have never found anything that was so profoundly influential in changing how students learn. Not only did it immediately engage the students in their own learning, it stayed with them throughout a 17-week semester…
A principal point of big questions is to inspire learners to ask them as well as pursue them. Make Just One Change by Dan Rothstein and Luz Santana puts this agenda front and center. Their subtitle telegraphs the 'one change': Teach Students to Ask Their Own Questions.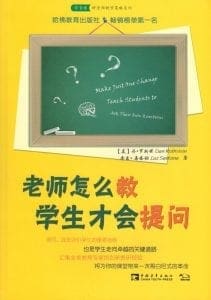 Read Make Just One Change and join the global community of educators who are using the QFT with their students. You can read the book one day and put it into practice the next. Around the world, educators are sharing the QFT with colleagues in their schools, districts, and states, and they are experiencing the joy of teaching students how to ask and think in questions.
You can purchase the book from Harvard Education Press or Amazon.