Learn how to combine the Question Formulation Technique with Library of Congress primary sources to drive student-centered, inquiry-based primary source learning. Participants walk away with a peer reviewed lesson plan, a new community of educators, and pathways to extend their learning.
Audience: K-12 educators and instructional leaders who hope to use primary sources in their work
Commitment: This online course runs for four weeks and requires approximately three to four hours of work per week (12-16 hours total). Coursework includes weekly readings, videos, active practice, and discussion board posts, and concludes with writing and submitting an original lesson plan. While there are no required live (synchronous) elements, this course is paced; a new session opens each week to enhance active peer-to-peer discussion and collaboration. Participants who complete course requirements will receive a certificate of completion for 12 clock hours.
Course schedule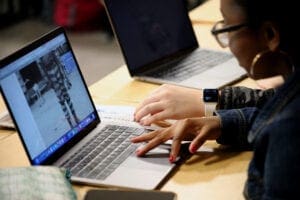 Orientation & Session 1:
Examine the connection between questioning, agency, and more equitable, democratic participation and learn the Question Formulation Technique (QFT).
Session 2:
Session 3:
Practice navigating the Library of Congress collection, learn how to design, assess, and revise an effective primary source Question Focus (QFocus), and begin building your own QFT-primary source lesson plan.
Session 4:
Explore ways to integrate student questions into the next instructional steps and learn additional tailoring strategies to customize the QFT for your students.
---
This course was developed through a creative partnership between the Library of Congress and the Right Question Institute, and was funded by a Library of Congress Teaching with Primary Sources grant.