Every educator is looking for ways to travel from the theoretical to the practical — preferably fast and efficiently, without a lot of luggage.
For thousands around the globe, a certain leaf-green book published by Harvard Education Press in 2011 has made the process both thrilling and productive.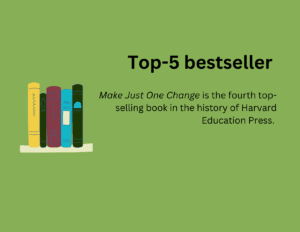 Todd Poole is one of those educators. Leaping from his office chair, he grabs a dog-eared volume from a shelf, waving it in front of the Zoom camera with a wide grin on his face. Make Just One Change, the title invites.
Seven years ago, Poole did just that. As principal of an inquiry-based elementary school in Ohio, he's eternally grateful that he and the teachers in his school have made that one "deceptively simple" change of teaching students to formulate their own questions. "This is why kids are here," he says. "To learn this lifelong skill."
Question-asking takes off
The cover of Make Just One Change, or MJOC, as it's affectionately known, is instantly recognizable to Right Question Institute fans everywhere, with its flock of question marks floating out of an open-doored bird cage.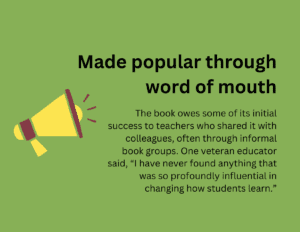 What you may not know (we didn't either!) is that RQI co-founders Dan Rothstein and Luz Santana's book is the fourth top-selling title in the publisher's 20-year history.
MJOC introduced the world of education to the Question Formulation Technique, or QFT. The book has been translated into Japanese, Chinese, Korean, Thai, Vietnamese, and Serbo-Croatian. The Japanese translation has been one of the leading education titles in that country — recently a top-15 seller in Amazon's general pedagogy category.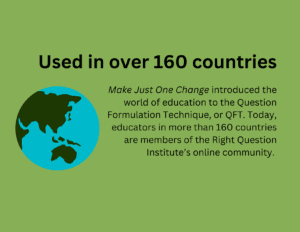 Educators regularly report that using the Question Formulation Technique not only lightens their load, but leads to better outcomes and greater student ownership of and engagement in their learning.
The recent announcement of MJOC's status in the Harvard Education Press portfolio inspired us to get in touch with several outstanding practitioners to find out more about what the book has meant to them in their careers.
A game changing tool
Virnilisa Printup is a K-12 social studies coordinator in Conyers, Georgia, about 25 miles east of Atlanta. She supports all grade levels with curriculum instruction and assessment. First introduced to the QFT at a National Council for the Social Studies conference in San Francisco in 2017, she was instantly hooked.
"Make Just One Change was a game changer for me," she says. She was so absorbed with it the first time she read it that she took it to a hair appointment, not wanting to put it down. "I'm just 'oohing' and 'ahhing' and my hairdresser was like, 'What are you reading?'"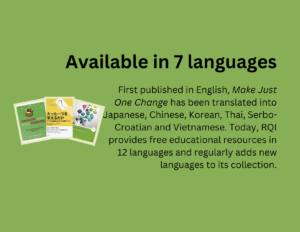 Printup went on to share the QFT practices widely in her district, with teachers, administrators, and instructional coaches. She remains a champion of the book. "I try to tell anyone who will listen to pick it up and read it. Even if you're just reading a little bit at a time, it's a great tool to go back to. There's always something that you might notice that you didn't notice before."
This, she adds, is true about implementing the QFT as well — the strategies are simple to access, but there is always more depth to discover.
Bringing joy and intellectual curiosity
Ling-Se Chesnakas (formerly Peet) was introduced to the Right Question Institute in 2010, when she attended a QFT workshop led by Rothstein in Massachusetts. She admits to some initial skepticism.
"There's no such thing as a silver bullet in education," she says. "But I gave it a shot and I was truly impressed by the results. My students that summer came up with better questions than I could have created myself."
The QFT practice — and the book, in which Chesnakas and her humanities classroom feature — appeared at a critical juncture in this young teacher's development. "There were times when I really wanted to quit my job even though I love working with kids so much. I just sometimes couldn't handle the stress."
The QFT sustained her motivation to keep teaching, she says. "It was a lifesaver."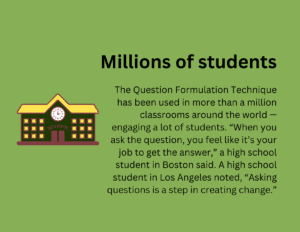 Chesnakas estimates she has introduced the practice to between 1,500 and 1,800 students over the last 13 years. She loves watching them develop their ability not only to ask questions but also to advocate for themselves.
"It's really a life skill," Chesnakas observes, describing a student who facilitated a QFT process with his family related to his driving the family car. Several students have introduced it to their other teachers in the school and in one instance even to a college professor.
"It has brought joy and intellectual curiosity to the students and to me," says Chesnakas. "It really allowed for a space where metacognition was safe and encouraged and where I was sharing power with students in a way that just felt really authentic. And, you know, that at the end of the day is what is going to motivate kids to stay in school."