One of the province's largest school board districts uses the QFT to drive student-directed learning and cross-curricular innovation in science.
Driving along country roads with no traffic, it takes Erica Alexander about three hours to get from one end of her school district to the other.
As a science coordinator for the Thames Valley District School Board, in Ontario, Alexander spends a substantial amount of time on the road, traveling from school to school. Her fellow science coordinator, Terry Brown, explained their role: "We're classroom teachers who have moved to the system level to help promote strategies for more effective teaching."
They cover a lot of territory. The Thames Valley District School Board, which sits about half way between Detroit and Toronto, is the sixth largest in the province, Canada's most populous. It has about 77,000 students enrolled throughout its 160 schools, and it stretches, corner to corner, across 124 miles (200 kilometers).
The territory they cover, of course, is also territory of learning, teaching and 21st century pedagogy.
As in many school systems around the world, Thames Valley has placed an emphasis on student-centered inquiry and is experimenting with cross-curricular learning. As part of this work, Alexander and Brown have been using the Question Formulation Technique as "a missing piece (of the puzzle) that helps in our scaffolding of shifting from teacher-directed to student-directed learning in the classroom," Brown said.
A tool to advance student-directed inquiry
"Inquiry has become a really big push in Canada," Alexander explained. "Within Ontario, inquiry or problem-based learning has become a real push."
Alexander and Brown have turned to the Question Formulation Technique (QFT) as one tool to pursue that priority. They recall first encountering the QFT in 2016 when their school board encouraged staff to pick a book for professional development. Two books were popular among staff: A More Beautiful Question, by Warren Berger, and Make Just One Change, by Dan Rothstein and Luz Santana, which details the QFT.
Since then, different departments have been using the QFT "to get our students engaged, asking questions, to sort of use it as a diagnostic and see what they know, and to take it from there," Alexander said.
The QFT fit well with some of the strategies Brown and Alexander were already implementing.
"One of the things we have been doing for several years is giving the kids a provocation and asking them what they see and what they think," Brown said. In the context of science, these provocations are often a video clip, image or scientific demonstration. "We're not telling them what to see or think," he said. "We're trying to get student voice, through just their vocabulary, about what they're seeing and what they're thinking."
"What is this little sausage thing with stripes on it?"
The QFT fit smoothly with this existing approach. A provocation promotes "observation skills," which are important for young scientists to develop, Brown continued. "Then we see this technique as a way to get their questions down and get them pursuing and driving their learning – because it's their questions."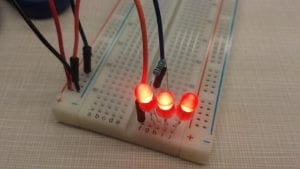 One of their most successful provocations, which Alexander has Tweeted about, involves electrical breadboards: devices that allow students to make electrical circuits by plugging various components – tiny light bulbs, resistors, etc. – into holes in the board.
Alexander and Brown will present students with a small circuit featuring different lights, blinking patterns and gizmos. As Brown explained, "we don't tell them what any of the stuff is. We just give them the stuff. And then we go through the Question Formulation Technique, and they'll ask, 'Why did it work this way but not that way? What is this little sausage thing with stripes on it?' We don't tell them it's a resistor. We just give them the stuff."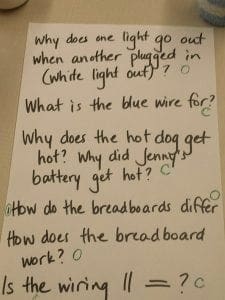 He continued: "They ask the questions and they find the answers, and they find out what the words are on their own. It's just very empowering."
Alexander noted the exercise also serves as a diagnostic tool for teachers.
"I think sometimes we view our students as empty vessels that we need to fill with knowledge," she said, "and the Question Formulation Technique allows us to see the knowledge that our kids bring to school with them. There are kids that build circuits and maybe have wired basements with their dads or moms, and they should be the go-to person in the classroom that our students are going to for support. It doesn't always have to be the teacher."
Brown said that after using the QFT to explore the breadboards, students "have a very deep understanding of electricity, and they're able to explain the circuits that they've built, and to me this is more powerful than being able to do a multiple-choice test and be able to define a term."
Moreover, "We talk about critical thinking a lot," he said. "That's kind of a buzz word, but I truly believe to critically think you have to be able to ask good questions. And so [the QFT] really helps get to the critical thinking. And it really makes the kids' thinking visible. They're putting their questions down and sharing them."
Breaking down barriers between academic subjects
Cross-curricular and project-based learning are other areas where Thames Valley is making a shift.
"One of the projects Terry and I are involved in is getting rid of the silos of subjects and having students work on cross-curricular problems," Alexander said. For instance, an art teacher and science teacher might work together with the same group of students over the course of a double period, where the students address a problem.
"We have one school with 85 students and four teachers, and they're looking at geography, science, math and English, and the teachers are working together through the problems to make sure the kids are getting what it is they need from the problem provocations," she said.
At the end of the 2017-2018 school year, this sort of cross-curricular instruction was taking place at 25 schools in the district, and notably, it wasn't directed by the school board's central office. "It's teachers that hear about the opportunity, and they decide to offer a course with a colleague to students," Alexander said.
She said the Question Formulation Technique "absolutely" is "a big piece" of this sort of innovation taking place in the district because it fits the needs of problem-based and student-directed learning, and students become more engaged.
"Before, when I'd say to my kids in the classroom, 'Okay, what questions do you have?' quite often there'd be crickets," Alexander said. "I think the shift is, we're [now] providing our kids with a provocation, and instead of saying what questions do you have, here's the Question Formulation Technique. Let's work through this. Their questions are being valued, and students are asking a lot more questions, because they know it's in their interest and they're going to get where they need to go with their learning."
Making the Question Formulation Technique second nature
According to Alexander, it can take students a few attempts to become proficient in the QFT, "because traditionally the teachers are the ones presenting the students with the questions." But "once students have worked through the process a couple of times, the buy-in increases."
"Once they have learned that they are in control of their learning, they are a lot more invested," she said.
Berger, among others, has shown that question-asking declines as students progress through school and that student engagement follows a similar trajectory. It's something Brown has also noticed. "Student engagement drops as they go through the school system," he said, "and I kind of parallel those two: questioning and engagement."
The QFT is one tool to help reverse the decline. With the QFT "we see the students are asking questions, and they're pursuing the answers to their own questions. They're more engaged," he said.
"I'm hoping in the future we won't have to mention it," he said about the QFT. "Teachers are [currently] the ones that give questions to students, and we're trying to make a shift away from that, so the Question Formulation Technique is a nice scaffold to get that shift happening, and hopefully it will become second nature very soon."
Questioning, in that sense, is an important academic skill to learn, akin to reading, writing and arithmetic.
It also underpins continuous and life-long learning.
After students complete an assignment "we should have new questions," Alexander said. "We want students to know that learning is cyclical, and it doesn't just end because we've answered that [assignment]. There should be more now."