This event is not open to the public. 
In this hands-on, active learning experience, participants will learn with RQIand collaborate with educators from across their institution to explore the many ways the QFT can stimulate student curiosity, promote deeper learning, and help build a democratic habit of mind through asking questions.
Over the course of the session, participants will:
activelyexperience the QFT
see classroom examples from kindergarten through higher education to see the many ways the QFT can support teaching and learning
learn strategies for effective QFT design and facilitation
work with planning tools and classroom resources to begin designing and revising their own lesson with the QFT
Workshop participants leave with a deep understanding of the value of teaching students how to ask questions, an understanding of how the QFT can support their instruction, and a discrete strategy and resources they can use to implement the strategy into their work.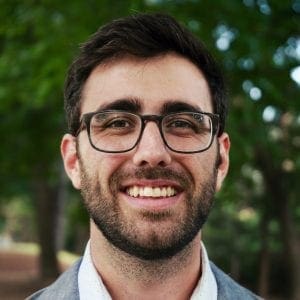 Andrew P. Minigan is the Right Question Institute's (RQI) Director of Strategy. He facilitates active learning experiences for educators, faculty, researchers, and students in both K-12 and higher education, and he has worked with tens of thousands of learners from around the world.
Andrew conducts research and consults on other researchers' empirical work, and also designs new learning experiences and curricula to support educators, researchers, and learners. He is a Co-P.I. on a National Science Foundation funded research grant to develop a strategy so researchers can learn how to formulate better, more transformative research questions. He is also a P.I., with Sarah Westbrook, on a Library of Congress grant that will provide learning opportunities for educators around the country, especially those working with traditionally underrepresented students, so they may learn a strategy to facilitate more effective student-driven inquiry on primary sources.
From 2015-2018 Andrew led RQI's Million Classrooms Campaign (supported with funding from the John Templeton Foundation). By learning with educators in the field, he scaled a pedagogical innovation on a global level. Now, students across all grade levels around the world are improving their own question formulation skills with a powerful yet simple strategy.
Andrew conferred an Ed.M. in Human Development & Psychology from the Harvard Graduate School of Education and graduated summa cum laudewith a B.A. in Psychology from the University of New Hampshire.