What do a physician who works with farmworkers, a researcher studying health among incarcerated individuals, a nurse working with cancer patients, and a community health worker helping low-income patients find subsidized housing all have in common?
They all stopped by the RQI booth at the American Public Health Association (APHA) conference or attended our presentation, "Microdemocracy: Building Patient Capacity to Participate in Decisions." These are the people who saw the Right Question-Effective Patient Strategy (RQ-EPS) as the missing piece that could enhance their work.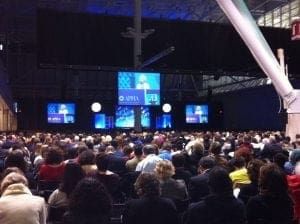 The APHA annual meeting and expo draws around 13,000 participants a year. Presenting at APHA was a chance for us to test the health care waters. How ready are these leaders in health policy, research, and clinical care for the RQ Strategy? We found many like-minded individuals among conference participants – many of whom are deeply committed to reducing health care disparities and easily grasp the need for more patient engagement in health care.
The RQI banner and theme of our booth – "the simplest, most powerful strategy for patient engagement" – drew many people in to our table to learn more. We were also pleasantly surprised to see that "microdemocracy" was a point of intrigue for attendees in the expo hall. Several others picked up our book for educators, Make Just One Change, on display at our table, including a nursing teacher who intended to use the book with her students. But while we enjoyed sharing these other sectors of our work with conference attendees, what was most valuable to us was listening to the stories of how health clinicians, staff, and researchers envision using the strategy in their settings.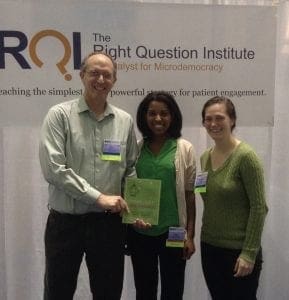 Here are a few concrete examples of the potential for RQ-EPS as shared from APHA participants who stopped by our booth:
A researcher from Philadelphia works with parents and providers on studies of autism genetic testing for children. She worries that many parents don't understand the clinic's informed consent procedures and providers often don't have time to review the lengthy documents with parents. She saw the RQ Strategy as a way to promote shared decision making between the parents and providers during these sensitive conversations.
A staff member at a nonprofit in California says the elderly patients she works with are sometimes discharged from the hospital but don't understand why they were hospitalized in the first place or what they need to do next. She explained how teaching those patients to ask questions would improve communication and mutual understanding before discharge to prevent readmissions for similar issues.
A Bay Area social worker helps young adults with disabilities transition from pediatric to adult health care. She quickly saw how building young adults' capacities to participate in decisions could smooth that difficult transition period and help them take control of their health care.
We continue to work on how to make the strategy and our resources more easily available to these individuals and other health clinicians and staff. What are some areas where you would like to see more patients asking questions and participating in decisions? We welcome your comments below!