Our first healthcare seminar last week was a success! We were pleased to see an active group of 28 participants, including a mix of social workers, nurses, community health workers, healthcare profession educators, and administrators joining us from not just around Boston, but also Springfield, MA and Rhode Island. We began with an overview and history of RQI's work in low-income communities and an introduction to the Right Question-Effective Patient Strategy (RQ-EPS). Participants then went through the RQ-EPS experience in small groups, asking questions about the prompt, "The doctor is changing your medication."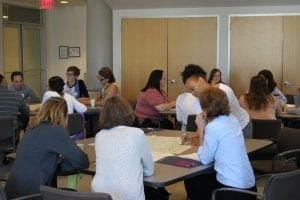 After this immersive learning experience in the RQ-EPS, participants practiced teaching the strategy, rotating between the roles of Coach, Patient, and Observer. We paused after each round of feedback to reflect on the challenges and tips discovered during the teaching process.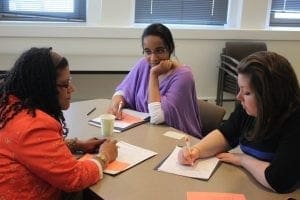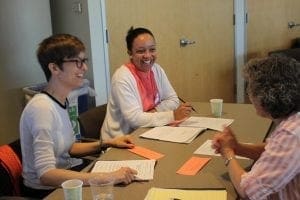 Finally, participants discussed how they plan to integrate the RQ-EPS into their work. In the evaluations after the seminar, we asked participants what they learned and how they would describe the RQ-EPS to a colleague. We also show a few examples of their plans for integrating RQ-EPS. We would like to thank Lorraine Horn for helping us secure nursing continuing education credits and Enid Shapiro for helping with the social work credits for participants in the seminar. We are expecting to learn from the experts in the field, the providers in our seminar who will be demonstrating how they can work the RQ-EPS into ordinary practice.
Quotes about RQ-EPS
"Simple yet very powerful." "It seems simple, but there's a LOT in this." "It can be feasible in the fast-paced health care setting in which we practice." "Understanding that question-asking is a skill is helpful in recognizing that it is a skill that may need to be taught." "This process challenges the underlying assumption that it's the provider who's making the decision. It challenges the underlying power structure. As a provider, I want to be even more explicit about what my role is and what your role is and how I can partner with you." "Helping patients feel supported, informed, and in the drivers seat." "To get real value, to have a valuable patient-provider experience, patients need to have buy-in in the experience. Generating questions, prioritizing them, and reflecting on them is a clear way to get patients engaged."
Evaluation results:
88% of participants plan to integrate RQ-EPS into their work. Examples of integration plans named by participants include:
Coaching by phone
Teach patients after hospitalization prior to follow-up visit
As a part of our information and referral service and as an educational tool for our support groups
Include in a presentation called "getting the most out of your doctors appointments"