Last week we
posted
about a recent article in the
WSJ
on patient activation. We are calling for more champions for this significant approach to help patients gain the knowledge, skills, and confidence to manage their health needs. Judith Hibbard not only developed the language and framework of patient activation, but also the validated tool for measuring levels of patient activation – the Patient Activation Measure (PAM). On the PAM, patients are given a score from 1 to 100 based on their responses to 13 questions. What do those numbers mean in a clinical context? The WSJ article quotes research showing that just a
one point
increase on the PAM results in a 2% improvement in medication adherence and a 2% decrease in hospitalization. Clinics that have implemented strategies to improve patient activation have reported savings of $260-$3,700 annually per patient. The Right Question-Effective Patient Strategy (RQ-EPS) is a simple, low-cost method for increasing patient activation.
Medical students taught the RQ-EPS
during a study on patient activation to mostly low-income, minority patients in waiting rooms of community health centers in New York City. They saw, on average, an
eight point
increase in patient activation. Further, the researchers assessed the patients' preference for control – whether they preferred an active, collaborative, or passive role in their health care. Patients across each of the three preferences saw significant increases in activation after learning the RQ-EPS. Yet passive patients had the greatest increase with over
nine points
.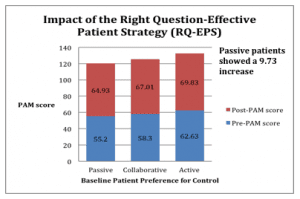 This data points to the importance of designing strategies that are effective with patient populations that previously had not been successfully engaged. Two questions immediately come to mind:
How might we compare the efficacy of various patient activation approaches?
Which patient activation methods work well with a highly educated patient population and which work best with patients with limited education?