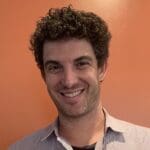 Johnny Walker is a high school history teacher at PUC Triumph Charter High School in Los Angeles. Leading up to the 2020 election, he used RQI's nonpartisan "Why Vote?" Tool with his students to spark discussion and learning around voting. Here, he describes the lesson plan he developed, discusses the results, and shares student reflections about the experience.
---
I teach at Triumph Charter High School in Sylmar, California, located in the North San Fernando Valley on the outskirts of Los Angeles, in the foothills of the San Gabriel Mountains. The urban and rural coexist. It is not uncommon to see a man in a tricked-out Mustang pass a man on horseback passing a man walking on the street. Sylmar is a tight-knit, working-class, low-income community, where generations of families, many with ties to Mexico and El Salvador, serve as essential workers to the city of Los Angeles. We are a Title I school whose population is 99 percent Latino and where 80 percent of our students are eligible for free and reduced lunch. Our close group of talented and dedicated teachers and administrators reflects the racial and ethnic diversity of Los Angeles, and in the last ten years, in partnership with local families, have built, maintained, and cultivated a school where caring and academic rigor braid together to lift young people toward greater opportunities. Most of our students are the first in their families to attend college.
I did not realize how powerful RQI's voter tool was until I implemented it in my classroom and put it into the hands of my students.
I wasn't looking for a game-changing, life-affirming, social-justice-warrior project. I wanted a project that was easy to create, implement, complete, and grade. With distance learning and a wide range of student abilities, I wanted to make it achievable, measurable, and differentiated. I also wanted a project that involved parent interviews and linked our study of the Enlightenment and revolutions with the modern practice of democracy.
These were the steps:
LIVE CLASS 1
Students use RQI's "Why Vote?" Tool lesson plan to rank issues and government services that are important to them. As an exit ticket, they write a paragraph about which issue or government service is most important using claim, evidence, and reasoning. (I pulled this directly from the RQI website.)
HOMEWORK
Students use the "Why Vote?" Tool in a Google Forms survey to engage an eligible voter — someone like a parent, sibling, relative, or family friend — and identify a need related to the election.

Students research and find a reliable source of information to address their eligible voter's need.

Students share that information with the eligible voter and document it.
LIVE CLASS 2
Students share and reflect on the eligible voter surveys and their own actions.
Most students chose a family member to interview. I anticipated needs and provided a list of reliable sources and resources.
Here are examples of student actions:
Students successfully encouraged eligible nonvoters to vote.

Students helped new voters register.

Students helped voters decide how to vote (by mail, voter drop-box, or in person at a voting center).

Students helped voters research a specific issue.

Students helped voters track their vote.

Students arranged conversations with friends or family to help a voter determine their values and choices.

Students provided babysitting services to give voters free time to vote.

Students helped voters to order a replacement ballot.

Students helped an eligible voter to schedule a specific time and location to vote.
Many students combined several of these actions, and some engaged multiple members of their household.
As more students shared their results, I gradually realized the strength of their collective action. I felt overwhelmed and humbled. I did not expect over ten percent of the students to convince new eligible voters to cast ballots one week before the election. One hundred high school sophomores, stuck in small spaces in Sylmar, most too timid or embarrassed to turn the camera or audio on in a Zoom meeting, became highly effective civic activists. They had meaningful conversations with eligible voters, identified and then fulfilled those voters' needs.
My students, through this project, have become voter facilitators. I'm inspired and filled with gratitude for their actions and the ripple effects, optimism, hope, and empowerment that this simple tool has generated for me, my students, and our community.
Mothers, fathers, older siblings, cousins, aunts and uncles, grandparents, neighbors, and friends of my students served as vital funds of knowledge for this project. Having my students engage directly with those close to them was a more powerful way to teach my students the value of democracy and government than I could have imparted in the classroom. As these family members and friends shared their considerations and struggles to navigate the complexities of the voting process, my students viscerally appreciated and learned the importance of research, analysis, and evaluating evidence and sources.
Furthermore, as our families rely on their public schools to provide government services, such as nutrition, education, counseling, and security, this exercise highlighted the school's potential power to leverage that already established partnership among students, parents, and teachers to politically empower the community and encourage greater civic participation.
And, while The Lakers and Dodgers championships have sent bursts of optimism and pride throughout Los Angeles, they're as illusory as a fading purple and gold sunset or the celebratory, blue smoke of burning tires and backyard fireworks rising and dissolving into the late October night. But, my students' reflections about the impact of voting following this project have given me hope in the endurance of their civic engagement and its reach.
I'd like to share some of their reflections here:
How did these diagrams help you think about your relationship to our government and your role in voting?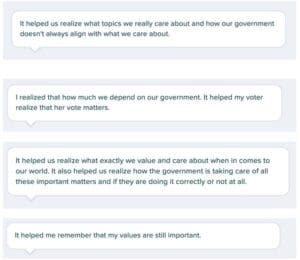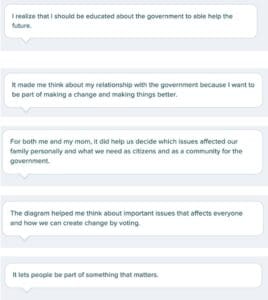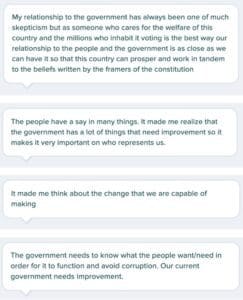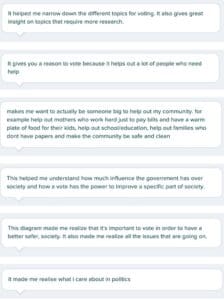 What did you learn from your family/eligible voter by engaging them in the survey with these diagrams and having them ask questions?