If you haven't tried the Question Formulation Technique (QFT) with a primary source QFocus, Black History Month might be a good time to start. The QFT teaches students how to ask questions and how to use them effectively. In the process, students learn to ask new questions about historical stories they think they already know. They practice their question-asking muscle until it becomes a reflex, a tool they can pull out and use at any time to parse challenging texts, read sources with a critical eye, and discover what they are most interested to learn about.
The QFT starts with a Question Focus prompt, or QFocus — a springboard for students' questions. The prompt can be anything (anything except for a question, that is), but it works the best when the prompt is a) simple, b) provocative, c) open to divergent thinking, and d) directly aligned to your lesson objectives. We've found that primary sources can be provocative as QFocus prompts. For more information on how to develop a primary source QFocus, see our guide.
It's important to think through your objectives before selecting a QFocus in order to pick something that will be most effective for your students, content, and goals. While the five primary sources I list here caught my eye as potentially powerful QFocus prompts, they're not necessarily the best match for every QFT lesson. Hopefully this post sparks some new ideas. One thing to keep in mind: If something catches your eye, gives you a gut reaction, makes you wonder or scratch your head or itch to google more about it, it's likely to do the same for students!
1) A 1965 photograph of school integration by Dick DeMarsico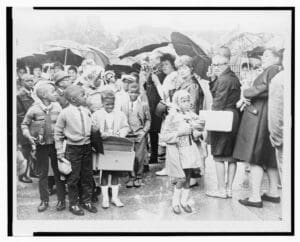 This photograph needed no context to spark my curiosity, and I imagine it would be the same for students. I wanted to know: What are the two groups saying to each other? What are they thinking? And, Why don't the kids have umbrellas? It tells a story that is familiar (no matter their age, students will probably recognize this photo as a representation of racial tensions and may even know it has to do with integration) and yet surprising, each detail adding to the complexity at play.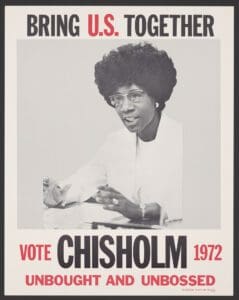 This poster stood out because of its catchy campaign slogan: "Bring U.S. Together. Vote Chisholm 1972. Unbought and unbossed." Even if you don't know who Shirley Chisholm is, you probably know what a campaign poster is, or can surmise that Chisholm is trying to get elected. That fact, coupled with her picture, and the simple but powerful slogan she chose gives us just enough information to start asking questions about her and the context around her. I probably wouldn't recommend using a regular portrait photograph of her as a QFocus, however. For example, if I were a student and this photograph was my QFocus, I'd probably get stuck after, "Who is this?" Portrait photographs of people the students don't know often don't give enough to go on for the QFT.
3) Newspaper headlines, like these:
"Tulsa's Terrible Tale is Told" (see this blog for more info) or, "Supreme Court Kills Jim Crow on Southern Buses" (see this blog). Newspaper headlines work well as prompts for questioning. When used at the beginning of a lesson or unit, a headline can give students a snippet of the outcome or aftermath of what they are about to learn, and then they have to work backwards to unravel what happened and connect it to what they already know. Students will likely start to question the inherent bias that often reveals itself in the journalist's process of trying to describe the "gist" of a story in so few words, even while striving for objectivity, as well as question how the headline might represent or influence public opinion at the time.
4) A letter from Ida Husted Harper of the Leslie Woman Suffrage Commission
Take a look at this letter (see pages one and three of the letter are here and page two here) denying the inclusion of a federation of African American women's associations. This blog explains in more detail the significance of the letter, which represents the exclusion of Black women and other women of color from the women's suffrage movement at large. Depending on the age and experience of your students, the letter in its entirety could be used as the QFocus (you'd probably want to give students time to read it twice through before launching into asking questions) or one quote or segment could be used. This line in particular stood out to me: "Two thirds of both houses of the new congress are pledged to vote for this amendment … The opponents are not leaving a stone unturned to defeat it and if the news is flashed throughout the Southern states at this most critical moment that the National American Association has just admitted an organization of 6,000 colored women, the enemies can cease from further effort — the defeat of the amendment will be assured." The tone of the letter and its justifications are what gave me pause and spurred questions like, "What did the movement for suffrage led by Black women look like and how did they achieve full suffrage for themselves?" and, "What other figures and fights are missing from my understanding of the women's suffrage movement?"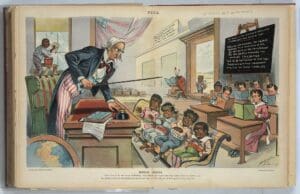 It is in the nature of political cartoons as a genre to use symbolism, hyperbole, irony, and humor to succinctly convey a message — often an opinion on a politically charged issue, and sometimes a personal belief held by the creator or publisher. Using the QFT to interpret a political cartoon can be a rich exercise in close reading and media literacy. For example, in one class, led by history teacher Johnny Walker, a student asked about this cartoon, "Is the caricature face of the Black students on purpose?" Another asked, "Is this satire?" This political cartoon or another might prompt discussion about caricatures, stereotypes, and their impact on how Black people as a group have been portrayed and perceived throughout history.