The Right Question Institute offers professional development sessions across the country on Teaching Students to Ask Their Own Questions. Recently, one of our guest associates, Richard Wallace (@wally), facilitated a session and then offered his reflection on the Question Formulation Technique as a student centered learning strategy for any school environment. In his reflection, he responds to many questions that educators often pose, so we've decided to share his reflection with you as the opening to our weekly Tuesday posts from educators in the field. After you read it, share it with others and share your thoughts / comments / questions below.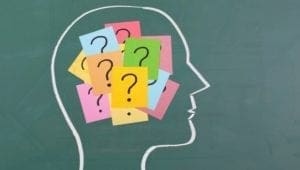 Reflections on Implementing the Question Formulation Technique
by Richard Wallace
This was a rich experience facilitating teacher learning and sharing the beauty of this process with colleagues from the inner city, suburbs, rural districts and the state of Hawaii. The Right Question Institute shares the process as part of the Creative Commons-free to all online. It is a no cost, low or no tech strategy that knows no demographic boundaries. It can develop students' critical thinking skills in any content area as well as provide a framework to improve learning for the administrative team or school board. If Boards are making policies based on feelings and not asking lots of questions they are making poorly informed decisions. All decisions by administrators, the superintendent and school boards must be made based on what is best for students and the impact that each decision has on student learning. The Question Formulation Technique helps with that — for administrators and boards and for students and teachers.
How do we create a culture that supports questions for all students?
Facilitating this process repeatedly makes me a practitioner not an expert. With that said, participants noted that they were taking away a few key points from my facilitation that would be helpful in their classroom. For instance, it is possible that if we just say thank you to students for sharing work rather than good job or great question we will create more equity in the classroom and be less judgmental about student work. When a teacher asked, "What do I say when they ask me if I think their question is good." My response is you can say I see you chose active verbs in your question and that all questions have value. It takes practice but slowly this type of teacher response creates a shift in classroom culture.
Students that are not confident in sharing, start to understand that it is safe to put their own questions on the table. Introverts will start to participate more under the Microdemocracy of this differentiated, collaborative, rigorous process.
I have a lot of content to cover? How does this fit?
The challenge for colleagues is to make this pedagogical shift from teacher centered to student centered learning. There is fear that if they try this, they will not have time to cover the content. I am able to share examples from my own experience and the examples of other practitioners that illustrate that the improvement in engagement level is so strong that students stay focused for the long term because they have ownership of the learning because they created the questions of inquiry.
This simple, powerful strategy also improves three foundational thinking abilities without placing any additional curriculum requirements on educators — it is a process that you integrate into your current curriculum. The ability to use divergent, convergent metacognitive skills becomes a strategy for success in school and as a member of the community in life after school.
What if they do not come up with the questions I want them to ask? How do I craft an effective Q-Focus (Question Focus)?
My response to that is the process has a strong track record of examples from teachers that this is almost never the case. By sharing examples of my own practice, I illustrate that the classroom data I have shows students come up with almost all the questions a teacher can imagine. There are rare instances when it is not effective and this is the result of several possibilities.
One possibility is that the QFocus the teacher develops is not well crafted to help lead or elicit questions about the chosen topic. Sometimes we may provide to much background knowledge about a topic which results in few questions and low engagement by students. Use the "Introduction to QFocus Design" as a starting point. Also, look for more examples from educators from RQI in the coming weeks.
Another is the classroom culture may be so resistant to this shift in responsibility for learning that there can be strong resistance from students. This can be overcome with time and repeated practice. In a TED Talk by lifelong educator Diana Laufenberg she challenges our unwillingness to let students fail and sees this is a disservice to many. If students fail at using the Question Formulation Technique the learning can be strong from that experience. If we always give students the one right question this ability will not fully develop or develop at all. Inquiry involves trail and error. Ask any research scientist. We should have nothing to fear while using the Question Formulation Technique to improve student inquiry abilities. This is so important a learning process for students that our practice with implementing the QFT must be done with fidelity.
What is the impact you hope to see?
In our own district and state, the evidence shows we only perform in the 30% tile for inquiry based skills year after year. Even with the implementation of more hands – on minds – on teaching we have not seen a rise in this area that is deemed a critical 21st century skill.
Now that we know what we know, I would like to posit that we have strong evidence of the effectiveness of the Question Formulation Technique (QFT) across all content areas. In fact, I'm planning to explore ways to implement PD opportunities at the SAU, board, school and community level as we continue to create the conditions for excellence in teaching and learning in our community. Here at SHS, the ability for developing inquiry questions is on par with the state, which is to say, it is an area of need. If we want one place to start improving the rigor of our Sr. Project we need to teach all staff and students the Question Formulation Technique. This student centered protocol fits with our founding documents philosophy — student as worker teacher as coach.
Richard ended his reflection with a challenge (for RQI and for you):
Thank you for providing me with the opportunity to push my thinking at the Fall Forum. Now that I know what I know about this process pedagogy I have a challenge: How can sharing this work with other educators be done so that I am not the sage on the stage? I feel compelled to engage my colleagues in this important work as one component to improve teaching and learning.
---
We here at the Right Question Institute also feel compelled to engage as many educators as possible in teaching this simple, but powerful strategy so that this is a teacher led, teacher implemented pedagogical revolution. We invite you learn the strategy, teach it tomorrow, and then come back and share your experience with us contact@rightquestion.org! We will be featuring a guest blog post from an educator in the field weekly on Tuesdays!
Richard Wallace is a Learning Specialist at Souhegan High School, SDE Trained DI Coach, SRI Trained CFG Coach, a member of The Coalition of Essential Schools and Women's Lacrosse Umpire Association, and the School Board rep for the Town of Greenville on the Mascenic School Board.