This week our weekly post from an educator in the field comes from Jay Corrigan. Over the next few weeks, Jay will share how his school community has integrated the Question Formulation Technique into their classroom practice. While some educators use the entire QFT starting in the early elementary classroom, Jay describes a scaffolded approach that starts in Kindergarten and extends to third grade and beyond.
The Question Formulation Technique and Primary Students
by Jay Corrigan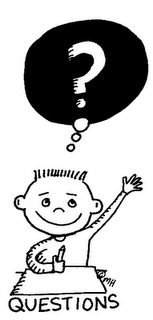 I'm here with my 3 and 5 year old daughters to talk about the benefits of using the Question Formulation Technique with primary students and to . . .
"Daddy, why is that girl smoking?"
I guess because she likes to but later, let's talk about why that's something you should not do when you're older. Anyway, questioning is something that young children do all the time. They arrive at school curious about the world and hungry to learn. One study reported that preschool children can ask up to 390 questions per day. That is an average of a question every 1 minute 56 seconds of a child's time awake. However, the number of questions a child asks in a day declines sharply when they reach grade school. The reasons for this is . . .
"Daddy, why does the sun look like it's moving?"
Our planet revolves around the sun in an elliptical orbit and rotates quickly on its axis so really, it only looks like the sun is moving but really we are moving in relation to the sun. You understand that, right? The reason for the sharp decline in student-posed questions is that kids aren't stupid. They figure out very quickly that in school, rewards are given for correct answers, not insightful questions. In fact, there is often a disincentive for kids to ask questions because teachers frequently feel like they don't have time during their lessons to address them and so react with annoyance or dismissiveness . . .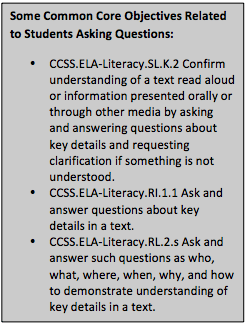 "Daddy, what is that thing over there?"
Well, there are about a hundred things over there. Which one are you talking about?
"The thing that has a color."
Oh . . . ok. That clears it right up. Let me finish this and I'll help you figure it out. The Question Formulation Technique is an ideal strategy to harness a behavior that young children exhibit naturally and direct it towards academics and the curriculum. However, with primary students, I encourage educators to modify the technique. What follows is a scaffolded set of steps that teachers of primary students can use to introduce the Question Formulation Technique in Kindergarten and build to complete use by third grade. The thing to keep in mind is . . .
"Daddy, where is God?"
I'm not sure. Maybe all around us? That seems like a great question for your Sunday school teacher. Let's talk more about that thing that has a color!
Scaffolded QFT for Primary Students
Check out this QFT Chart that outlines each of the seven scaffolded levels of the Question Formulation Technique for primary students and illustrates which component of the QFT is included at each level.
This is the first blog in a four part series on the use of the QFT in primary grades. Read part two, when Jay starts to share specific examples of how his staff has implemented the QFT with their students.
---
Jay Corrigan is a teacher specialist for Frederick County Public Schools and has held this position for 2 years. Previously, he was an elementary school teacher in Frederick County for 12 years, teaching grades 3, 4 and 5. Jay graduated from Bowling Green State University in Ohio with a degree in Elementary Education and received a Master's degree from the University of Connecticut in Gifted and Talented Education. He maintains a best practices website located at www.fcps.org/salient5 and can be found on twitter at @CorriganJay.