Take a moment to mentally pretend the unthinkable.
Imagine that in Star Wars: A New Hope, Obi-Wan Kenobi, the wise Jedi who launches Luke Skywalker into his intergalactic destiny, makes different decisions than written in the original script. Let's say George Lucas, the inventive creator of Star Wars, created Obi-Wan to be a character worried about entrusting the fate of the Rebellion to a teenage kid who could possibly die, or worse, betray the cause.
So instead, Obi-Wan takes it upon himself to fight Darth Vader and, instead of sacrificing his life as in the film, defeats him. *Gasp*
And remember that scene where Luke learns to use the Force and blows up the Death Star, the evil Empire's massive space station weapon? Yeah, Obi-Wan gives Luke the heave-ho and flies for him instead. The story ends with Obi-Wan leading the Rebellion fighters in destroying the Death Star and the good guys permanently victorious. *Double gasp*
And yet … something's not right. First, if you haven't seen this movie and are completely unfamiliar with all the previous references, stop reading and visit your neighborhood Blockbuster, er, or visit YouTube, and watch the film. The money is well spent.
Secondly, let's just say out loud what you're thinking: Obi-Wan is supposed to be the guide, not the hero of the story. And you would be absolutely correct. If the guide in a story inadvertently becomes the hero, you have no story.
But somehow, I have found myself in this predicament as an educator. I've personally made the common mistake countless times in my teaching career of being the hero for my students rather than their guide … and maybe you have, too.
THE MISTAKE
Here's a statement that is widely understood about most teachers: They want to see their students experience success in their learning journey. But educators are tasked with the unrealistic expectation to be the hero in their student's story. We face the challenges of high-stakes testing and administrative pressure that cause us to carry an invisible but real burden. On top of that, many of us suffer from a chronic lack of resources, time shortage, and other factors that are out of our control. As a result, teachers feel disappointed and disillusioned when they don't see results for their labor.
Prepare yourself, the following may catch you off guard. So here it goes: Teachers should NOT be burdened to be the hero of their student's story or to have all the answers that unlock their student's potential. In my 15 years in education (with experience in high school, elementary, and now as our school librarian), I have felt the weight to have all the solutions for my students. The longer I was in the classroom, the more I wondered, "What can I do to hand over ownership of a learner's journey back to my student? How do I let them become the hero once again?" And I didn't want someone to sell me more "transformative curriculum" or pitch better test taking strategies. I wanted something simple yet achievable, and I believed my pupils deserved it.
Enter the Question Formulation Technique.
THE PLAN
It's true that implementing the QFT looks different for many educators, depending on their content area and profession, but it can become the tool that releases a teacher to become the guide for their students. Once I took the Best Practices in the Question Formulation Technique online course, I felt equipped enough to implement the method in my unique instructional setting: as director and facilitator of a summer program I created, called WOW! Camp.
In WOW! Camp, I introduced small groups of students between third and sixth grade to the QFT before taking them on daily field trips to meet local subject matter experts. These individuals in our community were highly specialized in fields such as species conservation, robotics, gardening and cooking, and beekeeping. I put it to our campers like this: "We meet cool people, who do cool stuff, and do it with them!" This was a "low-pressure" setting that felt recreational, yet very scholastic, and was not unlike learning how to swim with Finding Nemo floaties in the kiddie pool (can you tell I'm a father of three?) I wanted students to produce questions that might serve as their floaties when introduced to these fields for the first time.
Due to time constraints and our campers being unfamiliar with the QFT, I troubleshooted and finally settled on facilitating the process in increments across three days. This allowed us to give each section its well-deserved attention and still arrive at our excursions in time. I first tried this segmented QFT with our camp focused on robotics, and the ultimate project goal was to build a tabletop robotic arm that is powered by water.
Day 1 – PRODUCE QUESTIONS: I facilitated the first two steps of the QFT, which include introducing the rules of question–asking and generating questions. The QFocus for this WOW! Camp was the statement, "It was invented in 1961 … and changed the world" alongside an illustration of a hydraulic robot arm.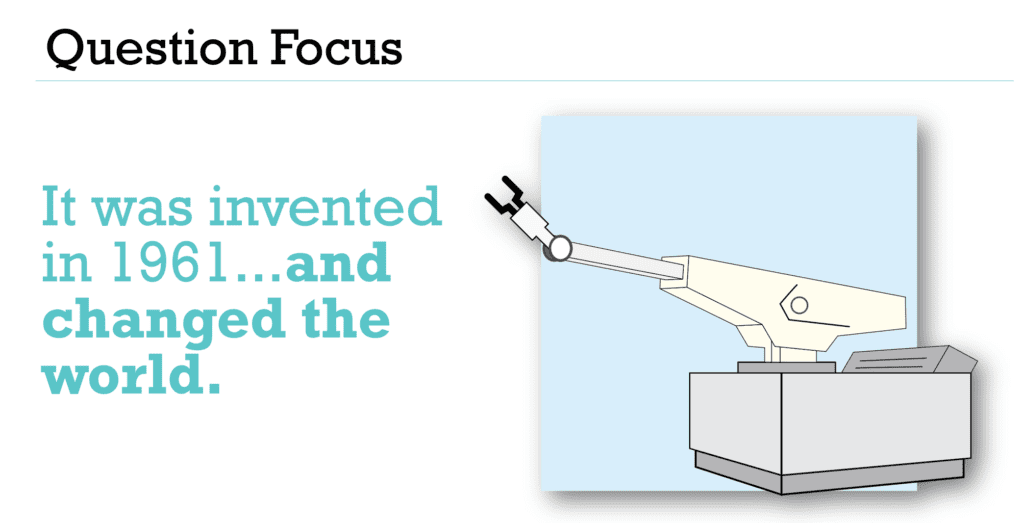 Some of the questions learners first produced were, "How did it change the world?" "How many men did it take?" and "Can I make something that changes the world?" This day's QFT work, as well as the other two days, lasted roughly 30 minutes each. The timing was suitable for these learners. They were engaged, focused, and inquisitive about the QFocus while taking half as long as we did in the first two weeks of camp.
Day 2 – IMPROVE/STRATEGIZE QUESTIONS: We picked up the process by learning the different kinds of questions (such as open versus closed) and their benefits, followed by campers choosing questions to improve from the previous day. When revising, they asked questions such as, "Did it change the world?" and "Did it take him long to make it?"
Day 3 – PRIORITIZE AND REFLECT: Our final day included time for learners to prioritize which questions they found most interesting, as well as reflect on what they had learned while asking questions. Learners shared several fascinating responses, including one 11-year-old student who drew himself with a thought bubble that said, "Know what other people are curious about." This student discovered that it is noteworthy and valuable to find out what others are curious about!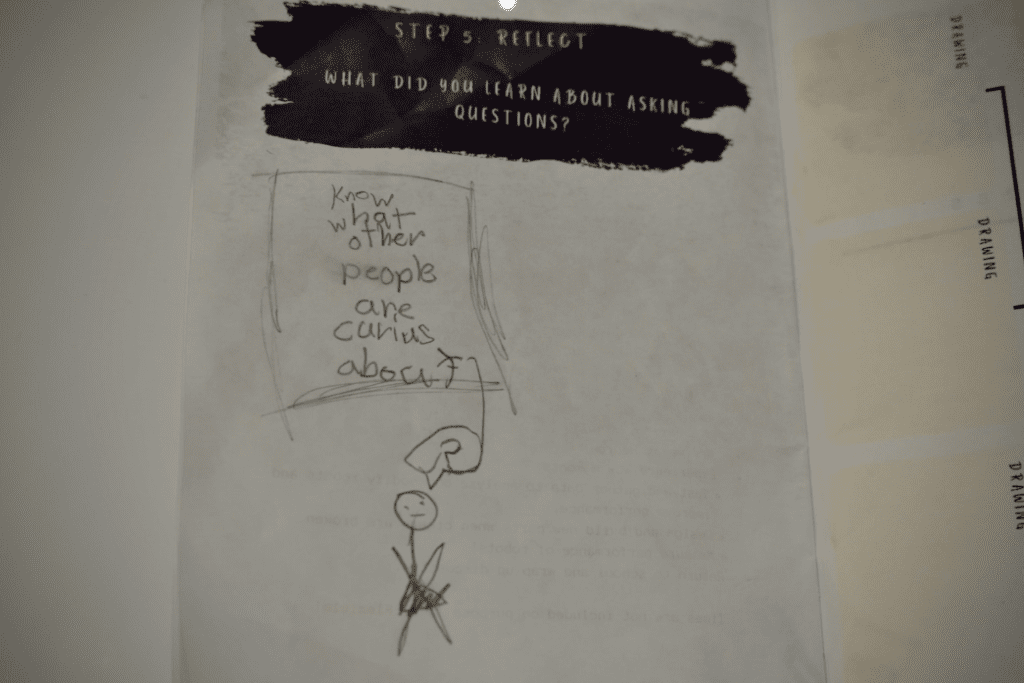 I found that expecting first time participants to learn and execute the entire process in one sitting was like trying to drink from a fire hydrant! This approach allowed them to experience the QFT in more manageable chunks and feel equipped to ask their own questions to the local experts.
Finally, I watched the students take control of their own learning journey. Once the kiddos arrived at the STEM Lab at Hebron Christian Academy, they asked our field experts questions constantly, such as, "Where are inches on a ruler?" "How do I keep this piece of wood still so it doesn't spin while drilling?" and "Where do I put this piece of wood so it's in the right place?" These questions delighted our field experts and became catalysts to rich math instruction. Students' engagement was fueled by the fact that their learning could be applied to fulfill an end goal.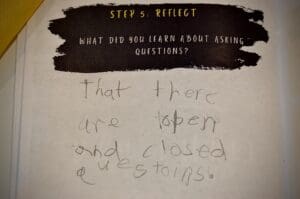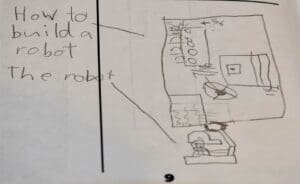 LEARNERS WHO BECAME HEROES
Let's begin by meeting a fifth-grade hero who discovered her voice.
Vanessa was the only camper to join our robotics WOW! Camp session from a different school than the rest of the group. During the group QFT, she asked multiple questions.
This was significant considering she didn't know anyone. She spoke with confidence and no hesitation! Once we arrived at the lab to build tabletop robot arms, however, her demeanor shifted drastically. On multiple occasions, when asking me questions, she spoke in a semi-audible whisper (which I had never encountered in all my years in education). My response was to walk to the whiteboard with the building diagrams and instructions (away from the noise of other workers) and have her repeat her questions until she was able to articulate them clearly.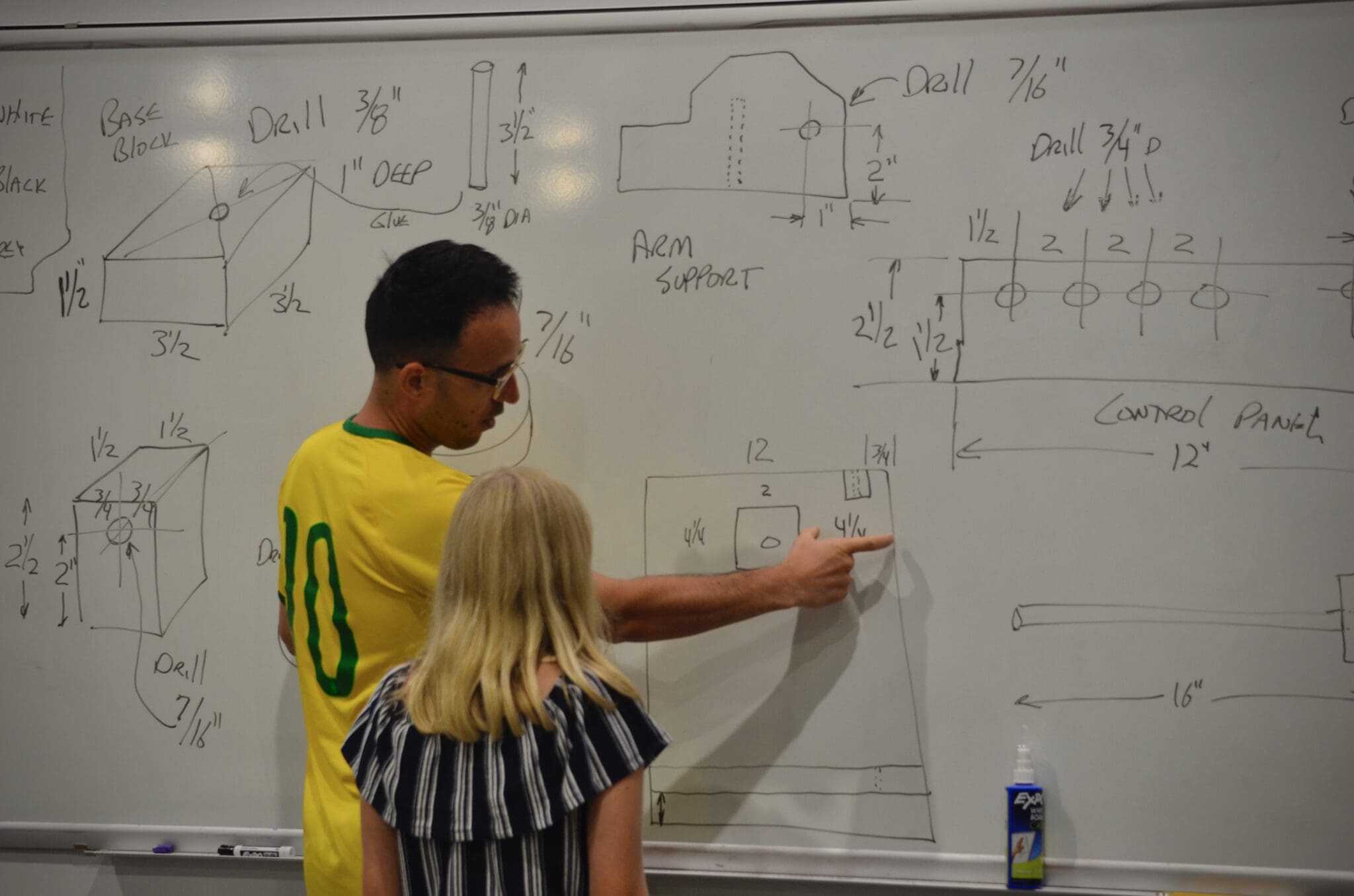 Then we would sit on the floor and work through the steps of her problem. After measuring, drawing lines, and checking her work, she headed back over to the drill table. While drilling holes into a piece of wood, she asked, "How do I know when the drill has gone completely through it?" When she figured it out, she smiled, "Oh I know when. When it goes completely through, the feeling is so satisfying." Asking questions in tandem with the experience of using simple tools, applied math, and perseverance was so rewarding for this camper! By the end of the week, I witnessed a painfully shy student speak up and coach her fellow learners. I came to the profound conclusion that this occurred because a brilliant child met kindred spirits of inquiry that were cultivated through the QFT.
But get this: Another hero in this group emerged when he reclaimed his identity.
Jackson will be in fourth grade next year, but all he could think about on our first day was his recent dyslexia diagnosis. During our first group QFT session, Jackson raised his hand and blurted out his only question, "Does our expert have dyslexia? Because I just found out I do…" This boy, who I've known to have the sweetest temperament and a Times Square smile, appeared to be disheartened. However, by day two something began to change in this same young man. He exhibited a bounce in his step and eagerness when he asked, "When do we get on the bus and get to the lab?" Every moment spent with guides who encouraged his questions and do-overs rekindled the smoldering embers of inner curiosity. For the first time since hearing about his learning difference, Jackson became a lightning rod of inquiry. His questions set him on a quest to conquer concepts like fractions, measurements, and angles. When his robot arm had a limited range of motion, he asked, "How come mine doesn't move as high?"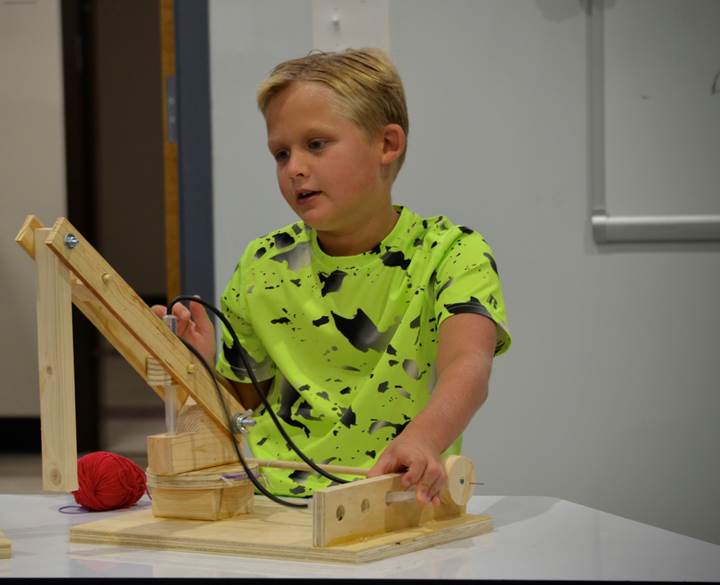 Since their robots were powered by syringes fed by water hoses, his question sparked a discussion on the importance of removing air from hydraulic lines. This same content, which stood as impassable mountains in traditional classroom settings, was subdued by a learner who rediscovered the spark of the divine inside his spirit. What a joy to see what takes place when an approach like the QFT strips any shame felt for being "ignorant" and is combined with an unconventional setting that offers opportunities for practical application. Our camp video, which includes highlights of this experience, ends with him proudly strutting out of the lab carrying his self-built hydraulic robot arm and tongue playfully sticking out. In three days, the QFT helped Jackson recapture his innate wonder for learning.
THE GUIDE'S REWARD
The transformation I witnessed while being a guide for WOW! Camp learners has completely reframed my teaching philosophy. I believe with unwavering conviction I would have given up my front row seat if I didn't enable these explorers to ask questions and conquer their challenges. Over and over, I watched the QFT serve as a springboard for them to wonder, dream, and imagine. The onus of learning was on their shoulders … and gave them the dignity of becoming heroes in their own stories. When a paradigm shift like this takes place, becoming the guide is a thrill.
And in the process, you become the hero of your own story.
---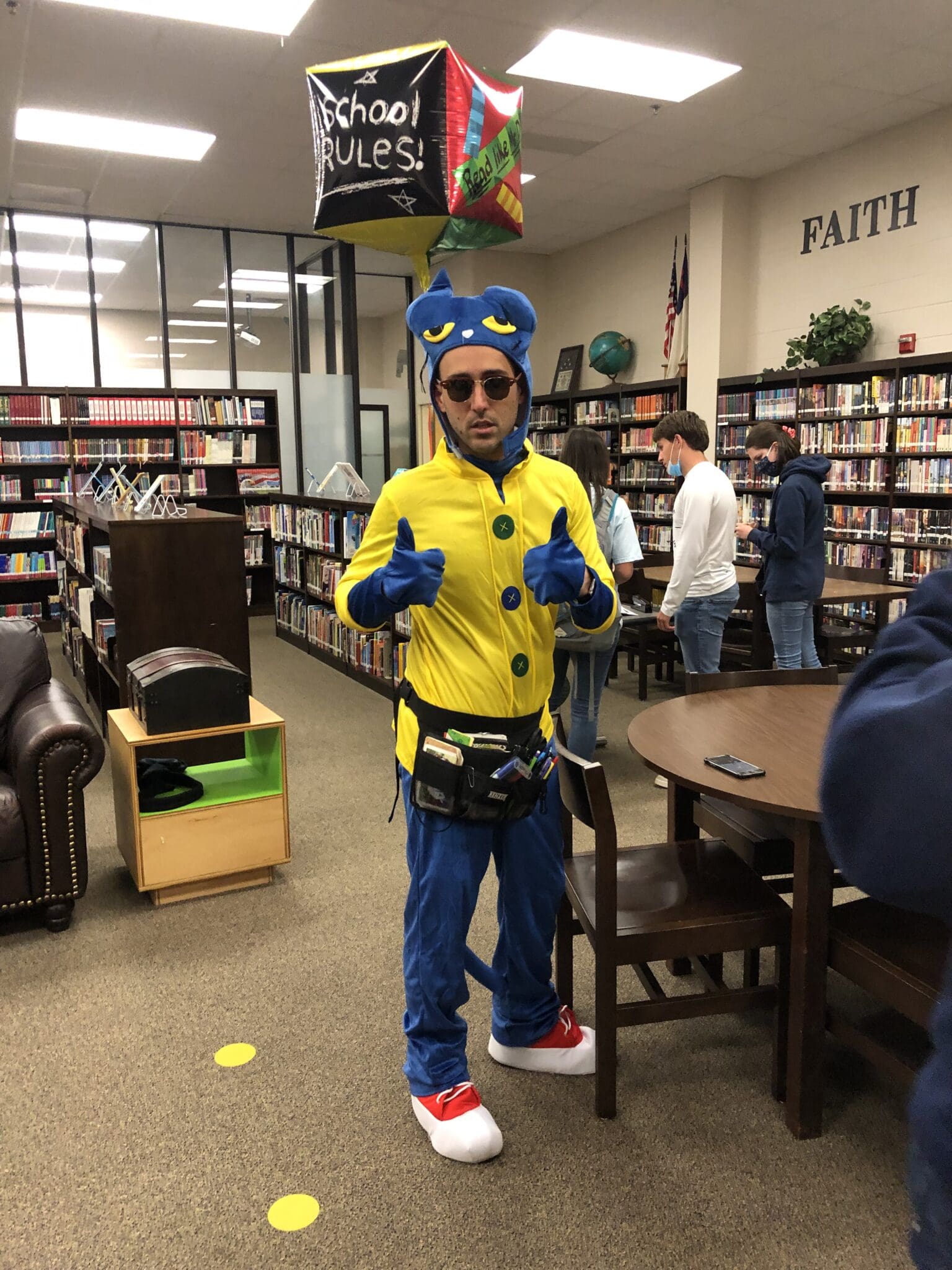 Danny Delgado serves as the Media Center specialist at Prince Avenue Christian School near Athens, Georgia. His experience includes eight years of lead teaching experience in third and fourth grade classrooms. Literacy and inquiry have become his leading passions while working with students between pre-K and 12th grade. The QFT has revolutionized his professional pedagogy and personal growth in multiple areas. It is not uncommon to see him roaming the halls dressed as a book character and catching up with students. His wife, Courtney, and three small children graciously put up with him. He loves meeting other educators and welcomes their correspondence at ddelgado@princeave.org.