The very last step of the Question Formulation Technique (QFT), but certainly not the least, is to ask students to reflect on the process.
Educators can tailor reflection questions to their lessons. (For ideas, you may like to check out this QFT lesson planning workbook). Prompts as simple as, "What did you learn?" or, "How did you learn it?" give students the opportunity to do challenging and sophisticated thinking about their own thinking. This is called metacognition.
Metacognition is crucial for making any new skill replicable. Students not only produce questions, they learn how to produce questions again and again. In addition to the final reflection, opportunities for metacognition are woven throughout the QFT: Students reflect on what might be challenging for them about following the QFT's four rules, they consider the placement of their priority questions in their original list, and they think about why they chose their priority questions. When students are given time and space to reflect on what they have learned and how they arrived at that knowledge, they take greater ownership of their learning going forward.
Along with the benefits for students, incorporating reflection offers educators a great deal, too. Reflections can be a helpful informal assessment of what students know and what they still want to know. They can offer another modality for students who were quiet during group work to share.
Ling-Se Chesnakas, a humanities teacher in Boston Public Schools, shared this about the importance of reflection: "Reflection is the piece that keeps me coming back the next day … The most profound reflections are almost always from the students who perhaps seemed disengaged in class. Quiet students often do a great deal of their thinking in the written reflection."
For the Right Question Institute's education team (Katy, Sarah, and Imaan), reading student reflections that teachers share with us profoundly shapes the work we do. In classroom after classroom, students reveal so much, not only about their individual learning, but also about how people, in general, learn. Here are a few highlights of what we've learned from students this year:
Katy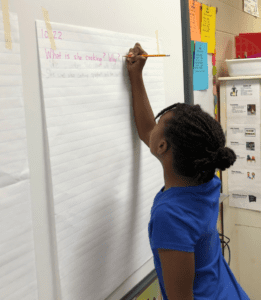 A student reflection that struck me this year came from a student in Ashley Barefoot's fourth-grade class. At the end of a QFT lesson, Ashley asked, "How do you feel about asking questions?" and the student replied, "I feel like my brain is super empty and I feel refreshed." It reminded me instantly of another reflection, also from a fourth-grade student, from about two years ago. He said, similarly, of his experience with the QFT: "It felt good to let all my questions out of my brain." I've heard from lots of students about the feelings of pride, inspiration, even joy they get from asking questions, but rarely do I hear a feeling described in such physical, tangible terms. I wondered if what they were describing was relief.
These two reflections remind me that asking questions comes naturally to all of us. Ever since we learned to talk we were buzzing with questions, and only when we grow a bit older do we learn to snap the lid shut. Trapped up in our brains, questions can feel almost physically uncomfortable — pent up potential energy growing restless. They seek to be formed into words and released. When we do the QFT we're not actually bestowing students with the skill of asking questions; they already have it. Instead we're providing students with a field, a place where they can feel free to let all their buzzing questions go, and then watch them as they alight on new ideas and pollinate new learnings.
---
Sarah
Students are learning the language of questions and how to deploy language more strategically to evoke the information they're seeking. A 12th-grader in Wesley Webb's AP Government class shared, "I learned how to make my questions more open-ended and how to build questions and responses that can be added onto." Several students in Patty Gomez's ninth-grade Spanish for heritage speakers class reflected on the difference between closed- and open-ended questions and the advantages and disadvantages of each. One student noted:
Fue muy interesante observar el progreso de mis preguntas, porque con el tiempo mis preguntas mejoraron. Yo pensaba que las preguntas abiertas eran mejor de las preguntas cerradas, pero esto no es verdad. Aprendí que preguntas cerradas pueden ser más útiles que preguntas abiertas en algunos casos.

It was interesting to observe the progress of my questions because with time my questions improved. I used to think that open questions were better than closed ones, but that's not true. I learned that closed questions can be more useful than open ones in some cases.
I love that both students saw questioning as a work in progress, as something that had to be consciously "constructed" and "improved with time" rather than a one-off stroke of genius. Great questions rarely materialize at random. Rather, they're honed. They're often off-shoots of other questions.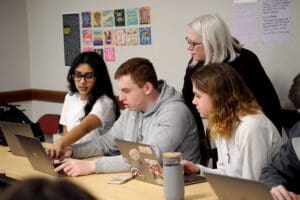 Students embraced intellectual flexibility in their approach to question formulation. One ninth-grader found that "it seemed interesting to me how a question that I thought had not much meaning could help me discover something better than other questions I had at the beginning." The value of having a lot of questions is that it leaves room for the element of surprise. A question that you think might be narrow or insignificant can unexpectedly open up fascinating new avenues, while one that seems important or perfectly crafted can sometimes lead to an endless mire.
Another student reflected:
Esta actividad me ha hecho pensar en cuántas preguntas que he tenido en mi vida entera. Ahora pienso en cuántas de ellas eran abiertas o cerradas. También pienso en la información que yo he perdido por hacer preguntas muy cerradas o de pobre calidad.

This activity made me think about the many questions I had asked in my entire life. Now I wonder how many of them were open or closed. I also think about the information that I have missed for asking questions that were either too closed or just of bad quality.
I wonder if this student will start looking at every advertisement, survey, and conversation just a little bit differently now? In many ways, these students' reflections remind me that the value of the QFT isn't just what it accomplishes in the classroom but also how it changes our thinking about the ways questions and language shape us beyond the classroom.
---
Imaan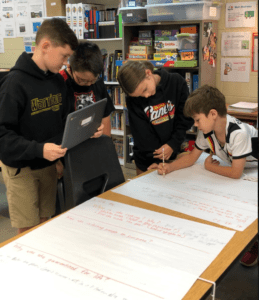 Across grade levels and subjects, student reflections taught me that asking one's own questions ignites an insatiable, cyclical kind of curiosity. Posing the reflection prompt, "What are you wondering now?" is a great way to capture the excitement students have after going through a rigorous round of questioning.
A fourth-grader in Hattiesburg, Mississippi, summarized the feeling: "When I ask questions I feel like I need to know the answer and if I don't know the answer I will start asking more questions and become curious." Before going through her class's QFT, this student may not have had any background knowledge on the sensational story of "Typhoid Mary" from the early twentieth century, but seeing an old newspaper illustration and headline were enough to inspire tons of questions.
What impresses me so much is that, rather than getting stuck on the answers she didn't yet know, she wanted to go deeper in her understanding of the topic — even if that meant asking more questions. Student reflections such as this affirm how the earliest interest can grow and sustain extended lines of questioning, leading to a place of energizing curiosity where there might not have been one before.