We've developed this resource page to help educators deepen their understanding of the QFT™ and offer materials to support implementation of the strategy.
* If you are already a member please login first to download our resources.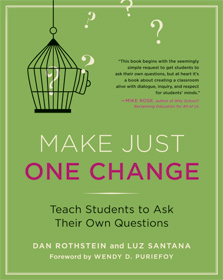 Use these resources to learn the process and how to facilitate the QFT.
Experiencing the QFT
This guide describes the key components of the QFT and includes a template that will allow you to experience the process.
Introducing the QFT Into Your Classroom Practice
This powerpoint will help you prepare for introducing your students or colleagues to the QFT. It includes all the steps of the process and teaching tips.
Tips for Facilitating the QFT
This two-page summary offers a list of tips and best practices for facilitating the QFT.
Facilitating the QFT Template
This powerpoint template includes all the QFT steps. Just add the Question Focus and you can use it to facilitate the process.
An Introduction to QFocus Design
This resource will take you through all the steps needed to begin to design Question Focus activities.
Assessing Facilitation of the QFT
Use this chart to assess how you are facilitating the QFT and plan how to improve your facilitation of the process.
Use these as handouts when introducing or using the QFT.
QFT Card: Key Steps of the Process
The QFT Card provides a quick snapshot of the six core components of the process. This resource is a good handout to distribute to participants after they've been introduced to the QFT process.
The Rules for Producing Questions
This resource should be distributed to small groups as a reminder of the rules.
Question Formulation Technique Outline
Here is a barebones template you can use to teach the QFT. Use it on its own or as a worksheet with the Facilitating the QFT Template.
QFT Small Group Worksheet
Use this worksheet to capture small group work after students have gone through the QFT process at least once.
Use these resources to introduce the QFT to parents.
Parent Engagement – School Environment Workshop
Use this scripted workshop guide to help parents develop question formulation skills and learn three specific roles they can play to participate effectively in their children's education.
Parent Engagement Teaching Outline
Add any topic to this outline and teach parents to ask their own questions.
The Right Question Institute has decided to make many of our materials available under a Creative Commons Sharealike license, which means you're more than welcome to use, adapt, revise, re-purpose and share our materials.
We ask that you reference the Right Question Institute by including "Source: rightquestion.org" on any materials.